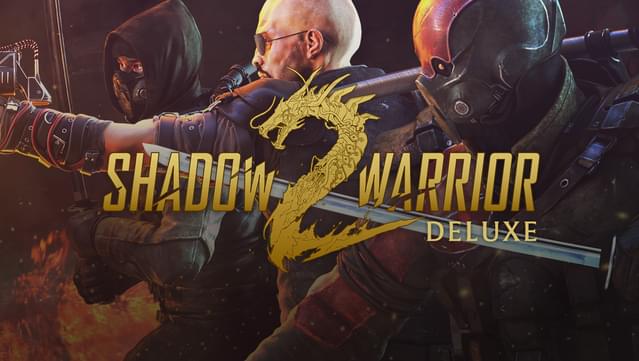 The video shows a relatively good build for farming orbs in arenas, which does not claim to be correct or perfect.
Video version
Text Option
Advice:
It's best to farm achievement after getting other achievements, since there will already be a more or less pumped character (a plus 1-2 thousands of orbs for quests)
Council number 2:
DO NOT HURRY TO SELL OR DRAIN ARTIFACTS!
Damage
Life on murder
Duration "Shadow Fury"
Crit percentage
These are very important nishtyaks.
Complexity:
I farm on 2 (31+ lvl). There are fewer immunes for enemies, less nightmares. On the next difficulty, I already had to sweat, BUT I WILL DISCUSS, I didn't farm weapons and levels but went with that, what happened. So if you feel like you're sweating when farming, better to lower the complexity, will come out and faster after the passage of the arena, and you will spend less nerves. There is little difference between difficulty levels, somewhere in 5 spheres.
Our main trump card is the ability "Shadow Fury". We pump the card with this ability to the maximum., pumping with a plus "Lashing blow", a very useful thing to keep your distance but nevertheless cut a bunch of enemies at once.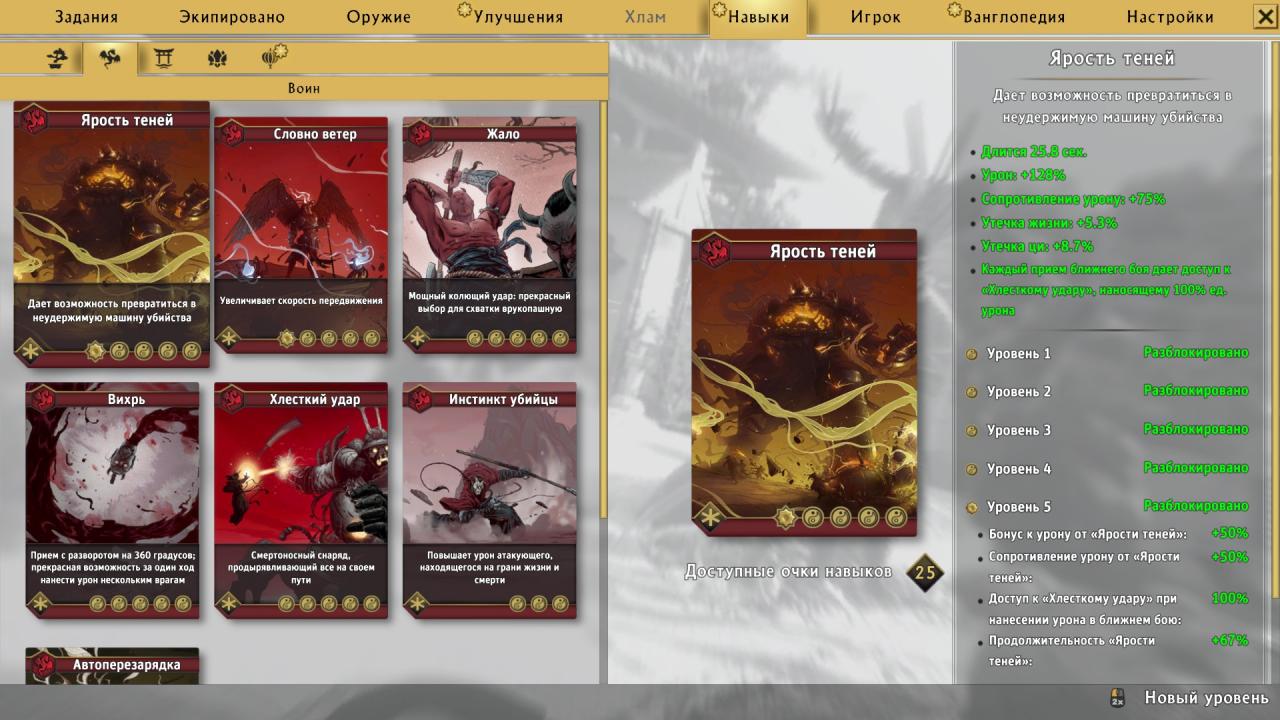 Ryuken is the ideal weapon for rage.. Due to the buff on 10% chance to restore the scale when killed, you can travel for a very long time and be under the influence of the skill, as well as be able to quickly restore it in case of rollback. Drops like from the last boss, or give it instantly, honestly, I do not remember. I'm sorry.
Since in Ryuken you can only insert upgrades in blue and below, I did not bother and poured everything into the damage / damage from crit / percentage of crit. Who will find what.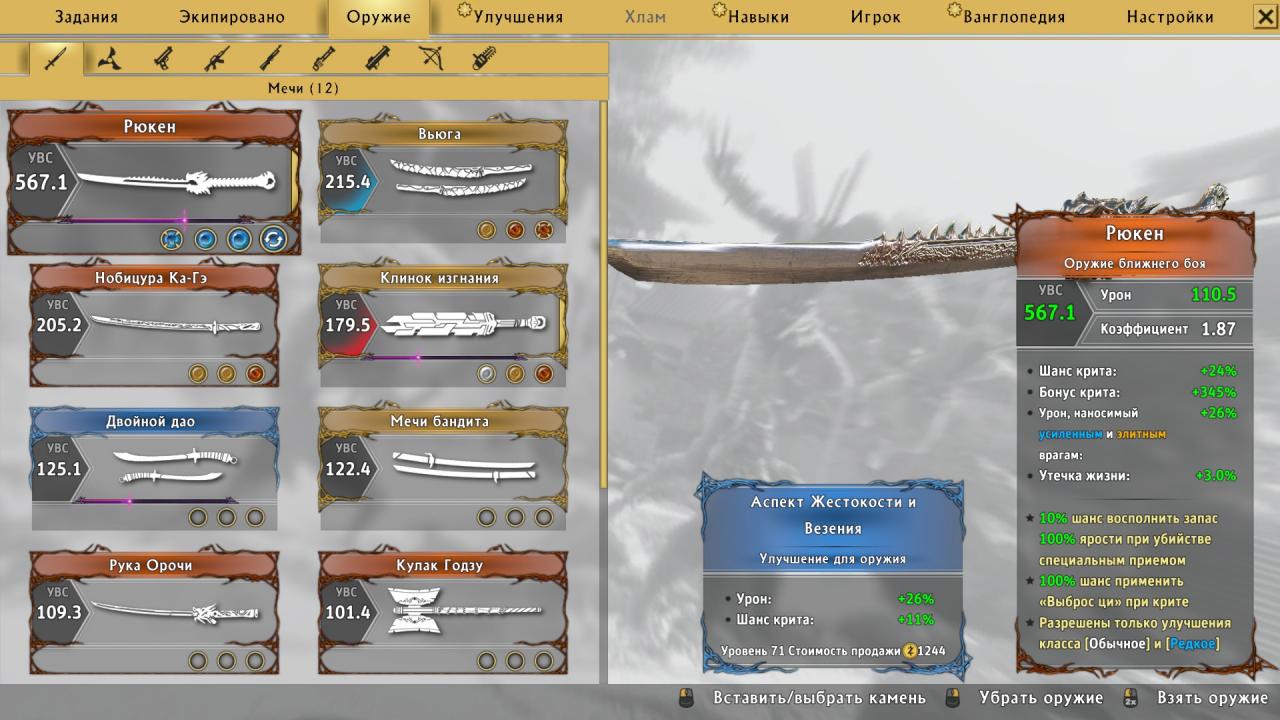 Stones
In armor, I preferred to put everything on the maximum heal when killing.
WHY IT IS GOOD TO PUT A LOT OF REST?
WHAT DURING THE RAGE OF THE SHADOWS WITHOUT PROBLEMS TO WAVE THE KATANA AND RUN ON THE LAVA WITHOUT PAYING ATTENTION TO IT!
The amulet will allow us to recover faster "Shadow Fury".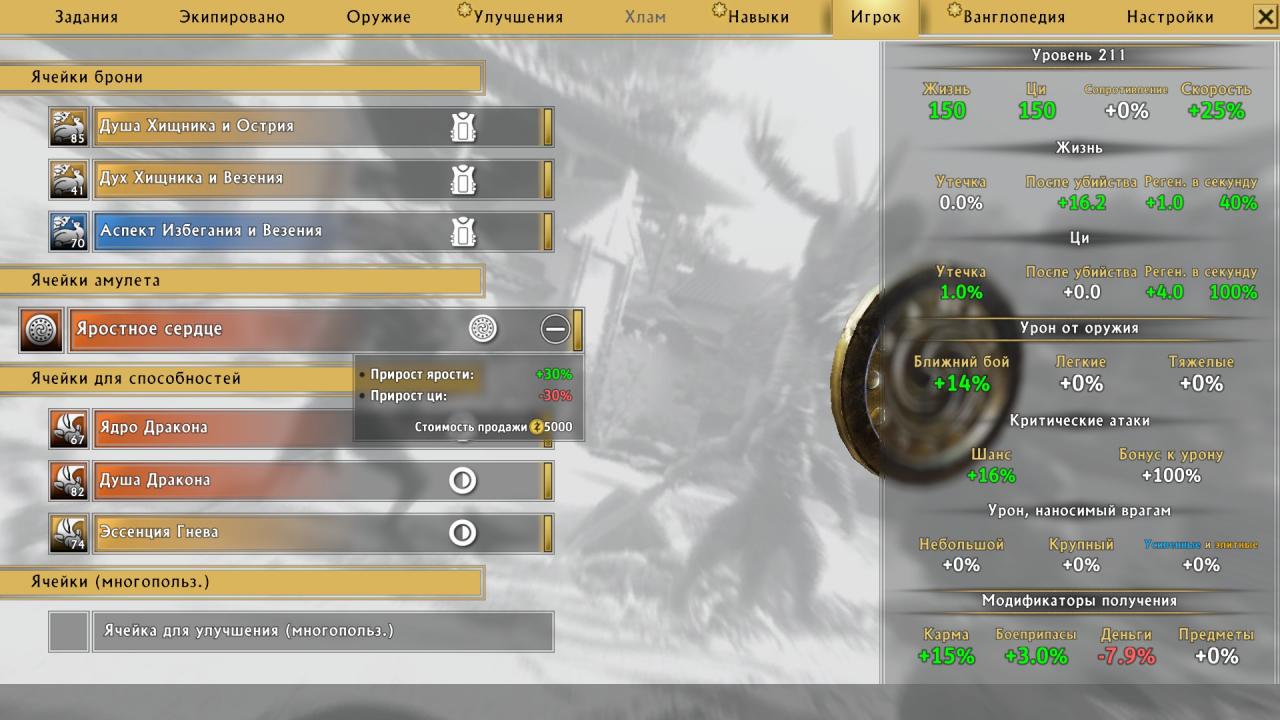 Ability slots are all for the duration / damage from our skill.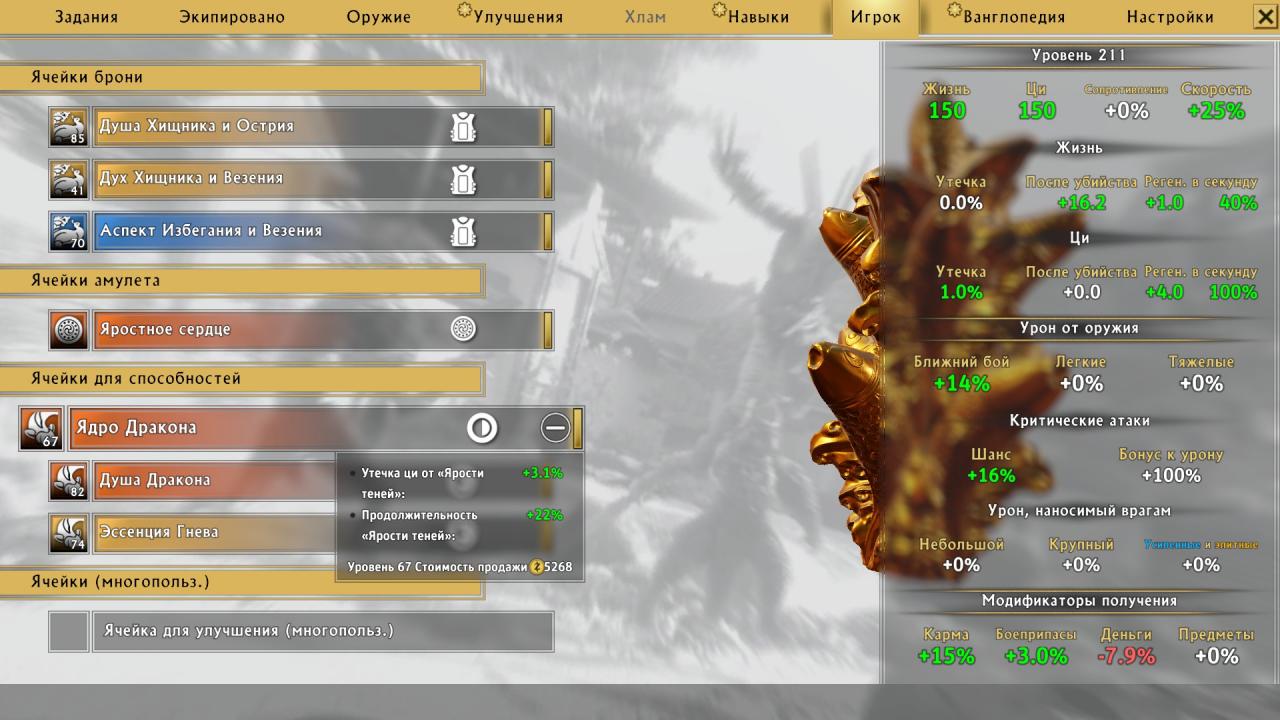 Tactics:
NO. Gaining rage and crumbling everyone and everything. If you put the stones at that time "Shadow Fury" will be about 20 seconds, which is a lot. Ryuken will allow you to restore the scale during the action and the timer will again pop up the time to the very top. Generally, mixing time with rage is about a minute and the arena is cleaned. If you have difficulty accumulating a scale, we are leaving for inviz – we hit with a whipping blow the maximum number of mobs – repeat. In general, problems should not arise.
UPD
And you can just hack the sphere during the campaign.