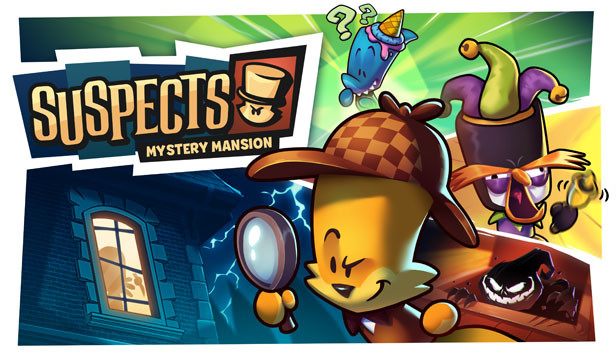 Here I will tell you about the Golden Pass, quests and seasons with:
general information
Gold Pass
– this is a subscription to Suspects, which gives you access to exclusive rewards. Purchasing a Gold Pass subscription always includes a free exclusive reward with
gold rarity
(Gold rarity means, that a player can only receive this reward for a specific season of the Golden Pass and nothing else) When purchasing a pass, all advertisements will be removed for you throughout the season. (For the period of validity of the pass)
Gold Pass cost – 240 diamonds
If you don't buy the Gold Pass, it means, that you will only receive the basic free pass rewards.
Free Pass Rewards:
Gold Pass Rewards
41 reward (Given that, that certain rewards in the Gold Pass are only available for one exclusive gold rare character);
exclusive assignments, allowing you to get more pass points;

Season duration:
The seasons usually last around 35 days, but sometimes they can last a few days longer, if fewer players complete the current pass, than expected, or for design reasons, that is, if developers take longer to complete the update.
Awards
Awards, which can be obtained per season, are exclusive and cannot be obtained by any other means, excluding awards 1 and 2 season, which can be bought in the store. (The only awards, which are still exclusive in those seasons, – these are golden rare awards)
Special events
To access special events in public games, you must be at least on 5 current season level.
Tasks
You pass the levels in the pass, performing tasks, which reward the player with points, for completing certain goals in the game. The game has 2 daily tasks, which are replaced every day and give a small amount of points. And there are others – seasonal quests, valid until the end of the season. You can increase the number of seasonal quests, by purchasing the Gold Pass. (Exclusive quests will be available)
Task list:

Win the game ~ 200 glasses

Report bodies (…) ~ 200 – 1000 glasses
Report bodies as killer: (…) ~ 500 – 1000 glasses

To perform the task: (…) ~ 500 glasses

Play a private game with 10 players ~ 500 glasses

To correct (…) саботажей ~ 500 – 1000 glasses

Kill the guest in the room: (…) ~ 500 glasses
Kill (…)1 guest(her) ~ 500 – 1000 glasses
Kill 2 guest before the first meeting ~ 500 glasses

Sabotage lighting (…) time(but) ~ 500 – 1000 glasses

Vote (…) time(but) right ~ 500 – 1000 glasses

Install 14 bombs ~ 1000 glasses
Win the match, detonating the bomb ~ 1000 glasses
Important!
Tasks to eliminate sabotage are only taken into account if, if you fix sabotage as a Guest, Inspectors, Detective or Vigilante. If you fix the lighting for the killer, you will not be credited with this task.
Seasons
1 season character: Finn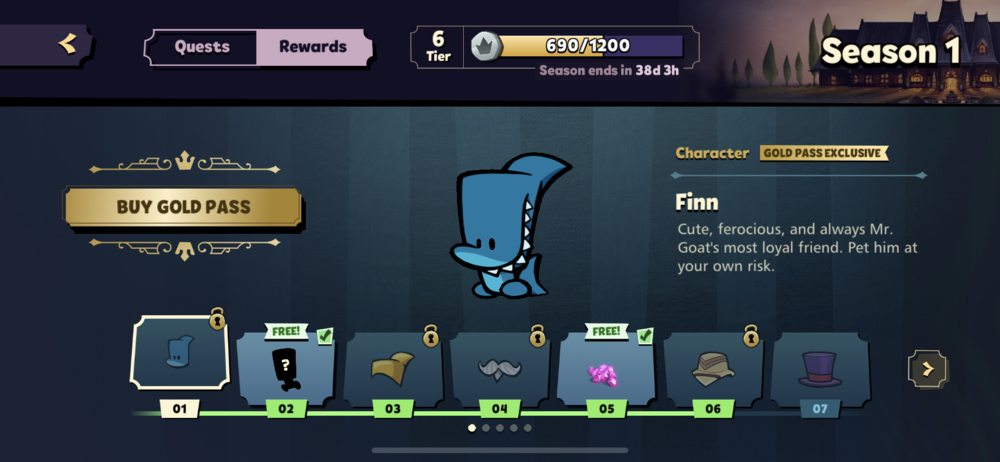 2 season character: Steve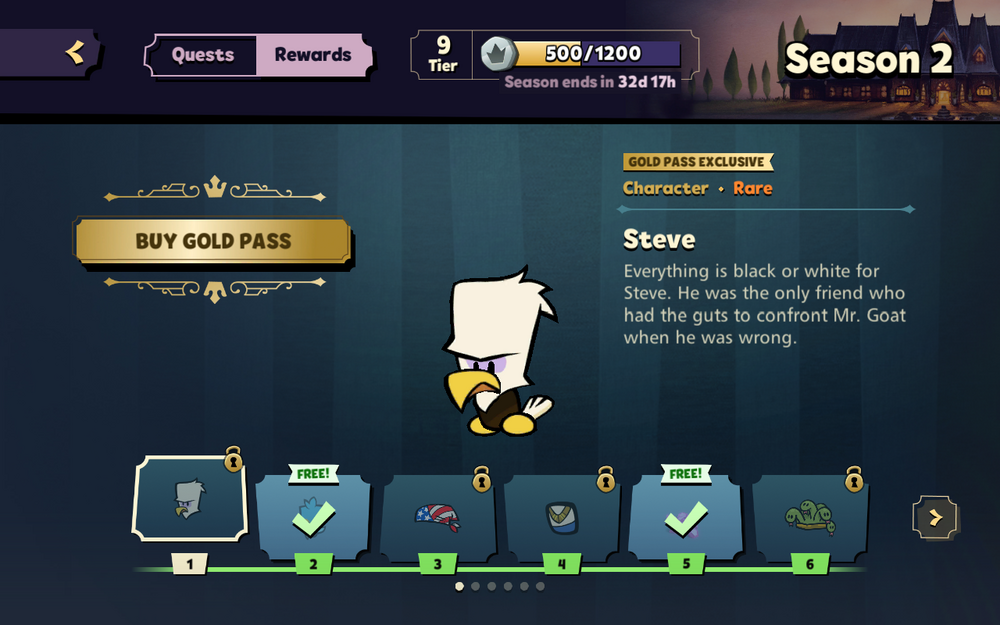 3 season character: Rita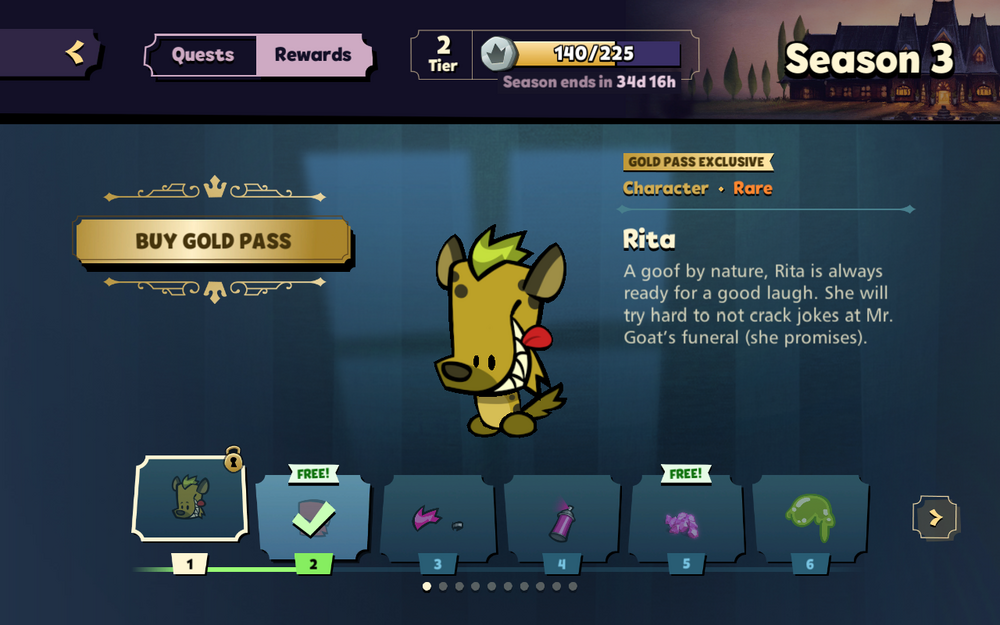 4 season character: Wanda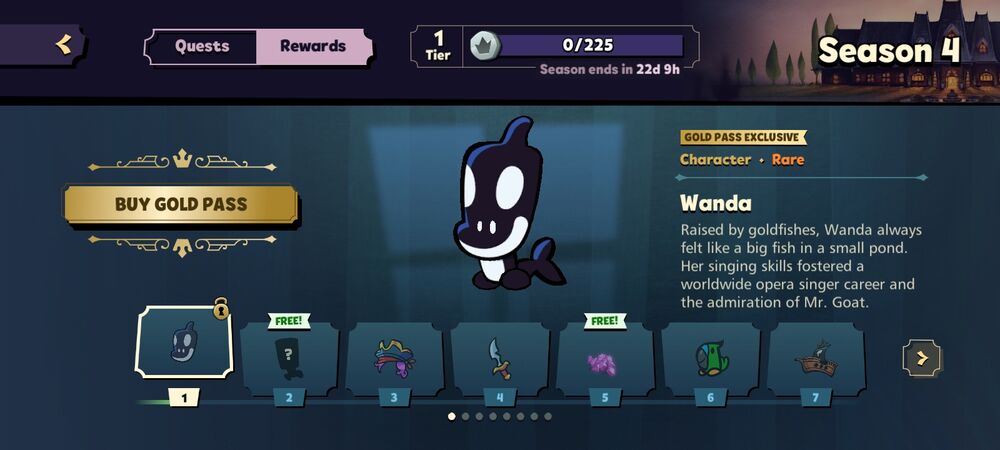 5 season character: Melvin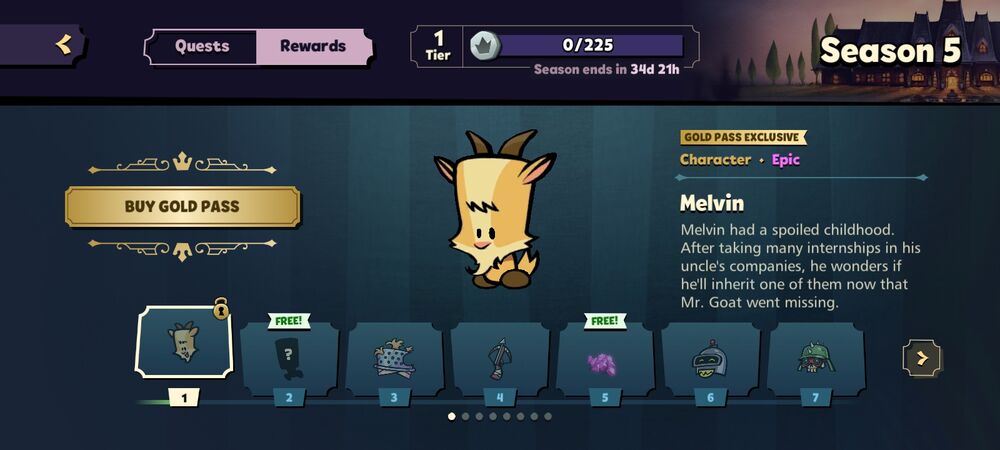 6 season character: Henry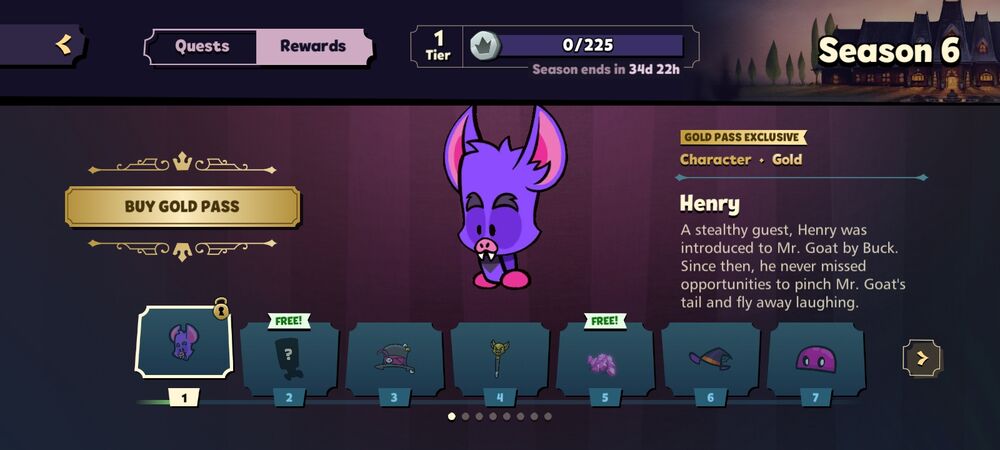 Related Posts: