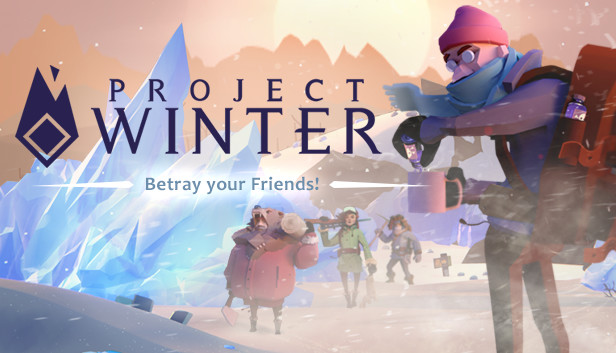 'Tis the Treason' – Project Winter December Update! 16.12.2021r
'Tis the Treason – Project Winter December update!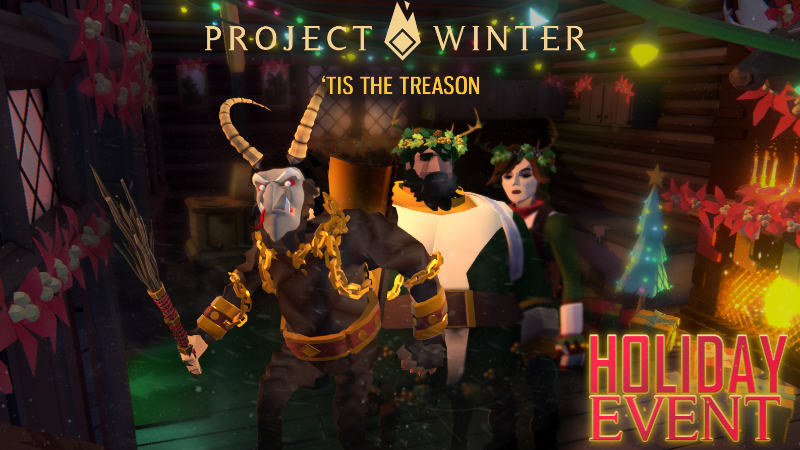 Now is the time for a change! You will notice, that there is a little festive mood in the hut- brought to you by the elves of Project Winter!
This update is packed with tons of gifts, which we are happy to share with you! We have added a list of friends in the game, items with traitor abilities and additions to custom modes, including custom shutdown! Plus some other additional improvements and bug fixes!
Our festive event will also be special this year – stay tuned for more information, when will it start 20 December!
PS. We know, what have you heard about Christmas in July ... but have you heard about Summer in December? Our new in-store merchandise will make you feel like you are in the sun in the Winter Wonderland project this holiday season! Available in approximately 3:00 evenings ET
NEW FEATURES AND GENERAL CHANGES
The list of friends in the game is now available.
Players can send friend requests or block players, with whom they recently played.
Players can send invites to the game to their friends.
Players, which you blocked, cannot join the lobby, which you post.
If somebody, who have you blocked, joins the lobby, in which you are (and you are not a host) automatically get mut.

Traitor sending abilities have been changed to items.

Two of these items are available in every Traitor's Package..
Traitors can also craft these items, using the credits of the traitors at the table to create a hut.
In addition to the original Radio Sabotage, Second target locator, Remote sabotage and remote Global exile, two new traitor items have been added:
Solar impulse, which triggers a solar flare event.
Hysterical gas, which causes mass hysteria.
Remote sabotage always sabotages the first target.
New options added to custom games.
Soldier's Past Roles, Medic, Scientist, Innocent, Medic Traitor, Traitor Scientist, Traitor Hacker and Saboteur have been added as role options.
Added option, allows you to disable the purchase of items from the boxes for the credits of the traitor.
Added option, to prevent hackers from breaking into a truth serum lab.
Added option to disable all visible player names at the start of a match.
Added option, allowing you to disable the abilities of ghosts, including the ability of ghosts to raise and lower objects.
Added option, which allows you to show all players the possible locations of the second target with beacons, similar to the first target beacon.
It will be easier for players to view the custom game lobby settings, not joining him.
An abbreviated list of settings is visible on the left side of the lobby list.
Players can click the "Custom Settings" button in the lobby list, to view all settings

Players can now create their own Blackout games.

All options, available in standard custom games, available in custom Blackout games, except for card selection and first target.
Two default presets available for custom darkened matches, the Monster Mishmash и Whispers на ветру.
[Blackout] Traitors can now sabotage hatches in blackout matches.
Trapdoor sabotage dispatches the next player, who uses it, to a random place on the map.
[Blackout] If the Puppeteer tries to use his ability, when no player is in range, the ability is not used and the charge is not consumed.
New tooltips for the quest have been improved "Excavations".
Close text for cipher bins shows the position of the number inside.
Numbers, injected into the encryption target, persist after closing the console.
These numbers are visible and can be changed by any other players, who access the target.
Tool skins now stack with equipment, in which you put these tools.
"Master of Deception" thank you icon changed to black
Steam invites should now enter passwords, if the lobby is password protected
Added statistics for "Survivor Kills" and "Traitor Kills".
BALANCE CHANGES
Phantom Freeze no longer interrupts interactions
[Blackout] Central hatches in blackout, which can be accessed by all players, require, so that the first target is fixed, before players can use them.
Scouts, yeti and traitors can pass through these hatches before, how will the first goal be achieved, but for this they will need more time.
[Blackout] When a demon breaks a survivor's rosary, the demon is temporarily stunned.
[Blackout] When the puppeteer breaks the rosary, survivor, rosary, temporarily stunned.
Truth Serums can no longer be used on clones.
Truth Serum Lab cannot be opened by anyone until then, until the first task is completed.
Sabotage option added back to Truth Serum Lab Consoles.
Sabotage "use and trap wolves" is free, if another player is on the bunker console while using it.
Arsenal now spawns with one terminal in practice mode
Removed a pistol with a tranquilizer from the task "No damage with ranged weapons", since it does no damage
ERROR CORRECTION
Someone needs it?
[Switch] Fixed bug, causing the Joy Cons to lose function when reconnecting to the console after exiting a match.
[PS4] Fixed bug, due to which sometimes PS4 players did not have their first objective, and they could not restore the goal in the game, hosted on a PC player.
Fixed bug, due to which players with crossplay disabled could join a lobby with crossplay enabled, when invited to the lobby by another player on the same platform, what they
Fixed bug, due to which abnormal unicode characters in text chat caused severe delays and crashes
[Controller] Fixed bug, where the custom setting buttons did not scroll when the button was selected with a controller.
Fixed and updated navigation on the Progression tab
Fixed bug, due to which players could rotate the avatar in the submenu with open settings
Fixed bug, which could cause players to get stuck at a table in a hydroelectric power station, stepping on a landmine
[Dense forest] Fixed bug, causing moose to sometimes get stuck at the water's edge outside the cockpit
[Dense forest] Fixed bug, due to which the user could place firefighting kits in the water next to the cockpit
[Dense forest] Fixed bug, because of which the polar bear could crash into the wall and get stuck, chasing you to the eastern cliffs next to his cave.
[Blackout] Fixed bug, due to which the pointer, it seemed, floated in the air
[Blackout] Fixed bug, due to which boxes with traitors appeared very close to each other
[Gondola map] Moved the traitor's hatch, who was under the stairs, to avoid collision
[Dense forest] Fixed area behind the map in front of the cockpit
[Dense forest] Fixed animals falling from a bridge to escape from a submarine
[Dense forest] Fixed collision issues on rocks and collider issues in water
[Dense forest] Fixed power lines, colliding with rocks
[Dense forest] Fixed issues, which caused the Survivor Field to appear inside the map
[Basic Mode Map] Fixed issues, because of which stones floated
Fixed issues with traitor crates spawning, because of which they appeared in inaccessible places.
Fixed issues with the cloning chamber camera in the Truth Serum lab
Fixed problems with game freezing, when the Scientist interacted with the console of the Lazarus car in a custom match.
Fixed bug, which caused the hacker ability to take longer to recharge, than indicated
[Switch] Fixed bug, due to which the game accidentally freezes in the main menu or on a subscreen
[Fixed] Removed call, responsible for sending spam, when trying to connect photon again immediately after disconnecting.
[PS4] Many fixes, related to loss of connection in the playback menu
[PS4] Fixed the possibility of freezing on the training mode settings screen, if after choosing "Start" there was a connection error.
[PS4] Fixed bug, due to which the connection to the server was repeatedly interrupted
[PS4] Fixed bug, causing the UI to overlap at the bottom of the game screen when playing in Russian and using any role with an active ability
[PS4] Fixed bug, due to which the Project Winter logo was slightly outside the user interface in the message "Controller is disabled", when the language is set to Swedish
Fixed bug, due to which some players sometimes did not have their first objective
Fixed bug after, how the bridge was destroyed, the gate still prevented them from crossing
Fixed bug, which caused drawers to open by default revert to the first drawer in the stack and sometimes cause, that the players opened the wrong box.
[Xbox console] Fixed bug, due to which users were unable to scroll and open drop-down menus of roles with a controller in the game's custom settings menu in the game
[Controller] Fixed issues, due to which presets became unavailable after copying custom settings in the custom game lobby
[Xbox console] Fixed bug, which caused the traitor custom roles to set the player to the main traitor in a custom match.
[Xbox console] Fixed bug, due to which the recommended presets were translated only once in the user settings menu
Fixed bug, which caused the user interface of roles to crash in regular games
Fixed bug, which caused an uncensored name to appear briefly on the player list when joining a lobby
Fixed bug, which caused the player to get stuck in the Crypto Station menu
Fixed bonus target "To survive, without dealing damage or harvesting resources with ranged weapons", including collection of resources.
Fixed bug, which allowed players to bypass the ban timer after exiting a match, using the quick match function
Fixed bug, because of which it is warm, emitted by Hot Springs and the Crater, had different meanings
Fixed bug, because of which username, profanity, remained uncensored after posting a single player lobby
Fixed bug, causing long usernames to not fully display on the loading screen or to match up on the screen
Fixed bug, due to which the text "Required addition" did not fit into the field in some languages
Fixed bug, which caused the taskbar to disappear from the screen
[Xbox console] Fixed bug, due to which "Coincidence, left ahead of schedule ", were not updated in the character profile
[Xbox console] Fixed bug, due to which the user settings menu appeared in the game when viewed during the launch of the game
Also fixed the case, when he could stay on the screen, if you leave it open when you disconnect and go back to the main menu
[Xbox console] Fixed, that progression icons did not appear
Fixed edge case, when the bonus objective UI did not update the text, to reflect the language change
[Xbox console] Fixed bug, which caused the game to remain on the match loading screen, if PS4 or Switch users were in the lobby
[Xbox console] Fixed bug, due to which you could not control the player, if the controller disconnected when the game menu was open.
[Controller] Fixed bug, causing popup buttons to display incorrectly when reworking items
From fiery
Related Posts: