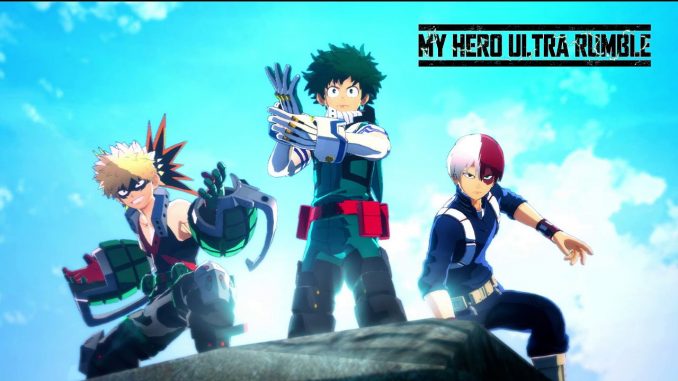 You might have noticed, that even from the very release of the game "ULTRA RUMBLE" on the Steam platform it has "mixed" reviews, that is, the game is often given negative ratings, where most of these negative reviews refer to, that many characters are locked and it's not entirely clear how to open them.
You can understand such people, since the interface is not at all friendly in this regard, so this guide should help you figure out how you can get a certain character. In fact, it is relatively easy to obtain 15 of the 18 currently available characters, and only three of them are available only in the gacha.
The guide will be updated as new information becomes available and new characters are added to the game.
Trial mode
Let's start off with, that you can play as any blocked character 3 once a day, for this purpose the game has a special mark at the top of the screen, under the "License" menu and next to your currencies, which says "3/3", and this is precisely what indicates, what else is available to you today 3 such games. Each such attempt is restored once every 8 hours, and the maximum accumulates to three. Therefore, feel free to choose any character with a "castle" mark and you can start the game for him without any problems.
Playing through this feature is not limited to anything, so you can play in any mode, including in the rating. This way you can literally try out all the blocked characters in just a few days of play., in order to understand which one you like best, and make a choice to unlock which to strive for first.
This is also a great opportunity for casual players, who don't have a lot of free time, and even 3 a game a day may be enough.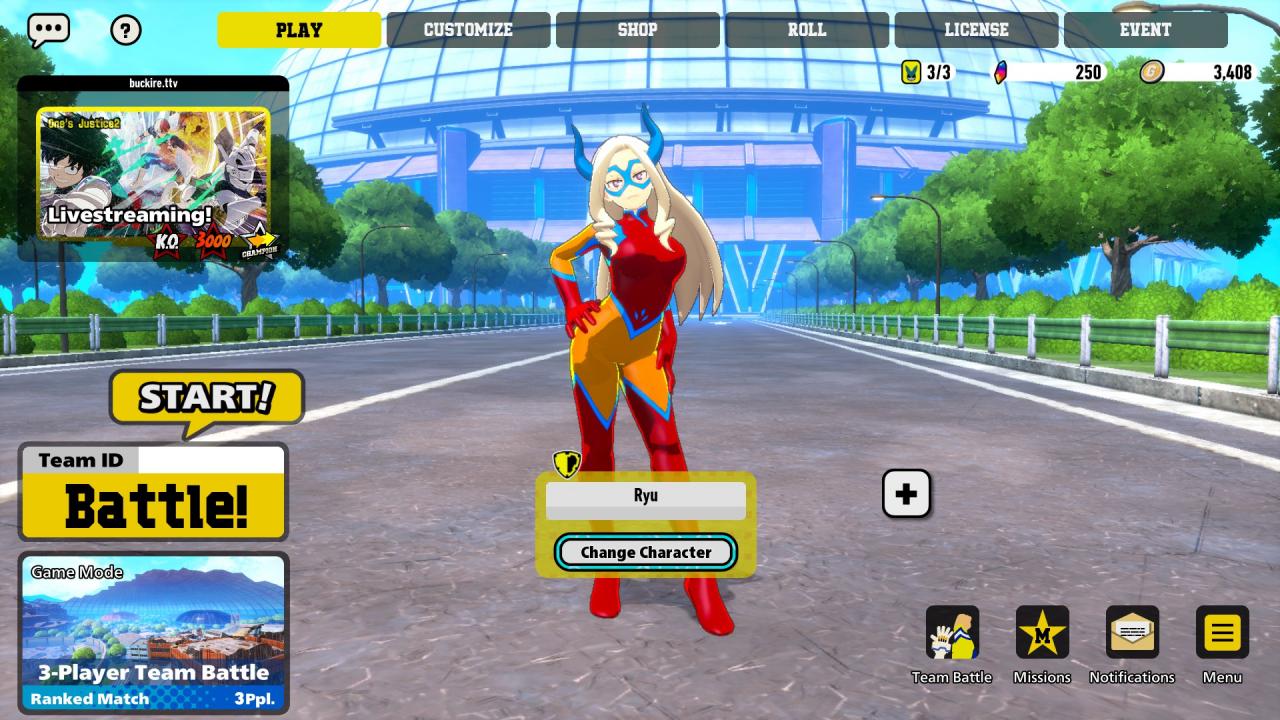 Games available at launch
Izuku Midoriya / Izuku Midoriya (Storm / Assault)
Ochaco Uraraka / Ochako Uraraka (Speed / Rapid)
Cementoss / Cementos (Support / Support)
Mt. Lady / Lady Mountain (Storm / Assault)
Tomura Shigaraki / Tomura Shigaraki (Hit / Strike)
Like / Dabi (Technics / Technique)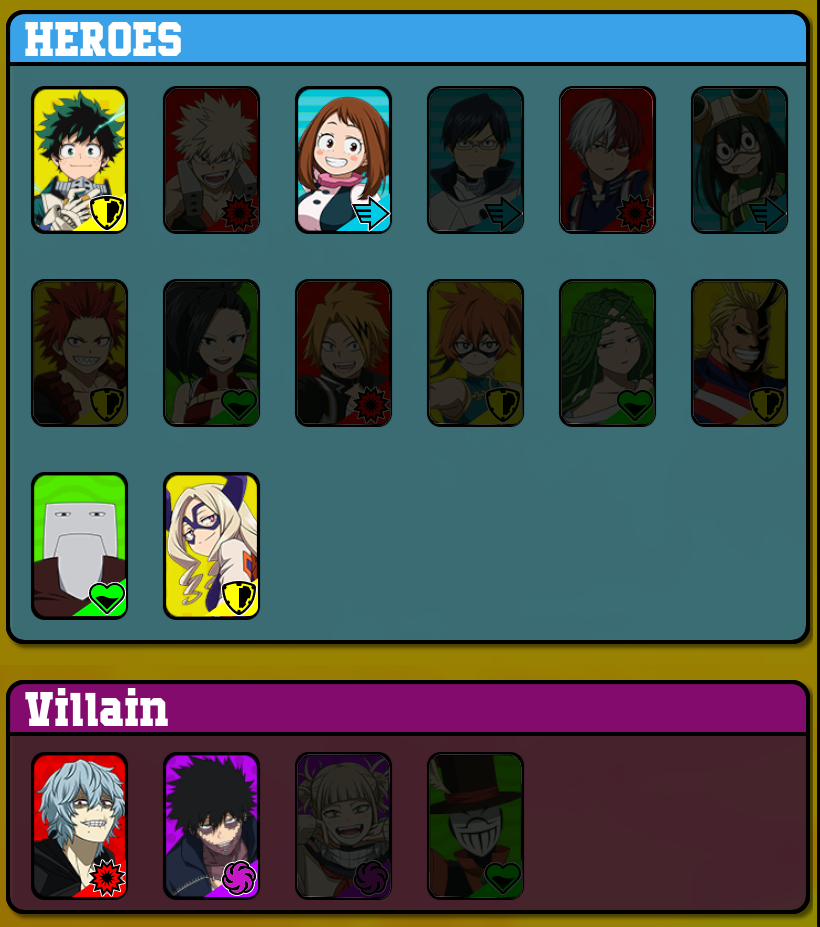 For some reason, some players suggested that the game would have a weekly rotation, when certain characters will be available in different periods, but in fact this is a misconception, and therefore those six characters that are available to you from the very start of the game will remain with you forever.
If among them there is one, which you like, I can sincerely congratulate you, and for example, you can save up tickets for gacha and then spend them on getting "costumes" for this character.
Licenses
Katsuki Bakugo / Katsuki Bakugo (Hit / Strike)
Shot Todoroki / Shoto Todoroki (Hit / Strike)
Tsuyu Asui / Tsuyu Asui (Speed / Rapid)
Himiko Toga / Himiko Toga (Technics / Technique)
Mr. Compress / Mr. Compress (Support / Support)
All Might / Omnipotent (Storm / Assault)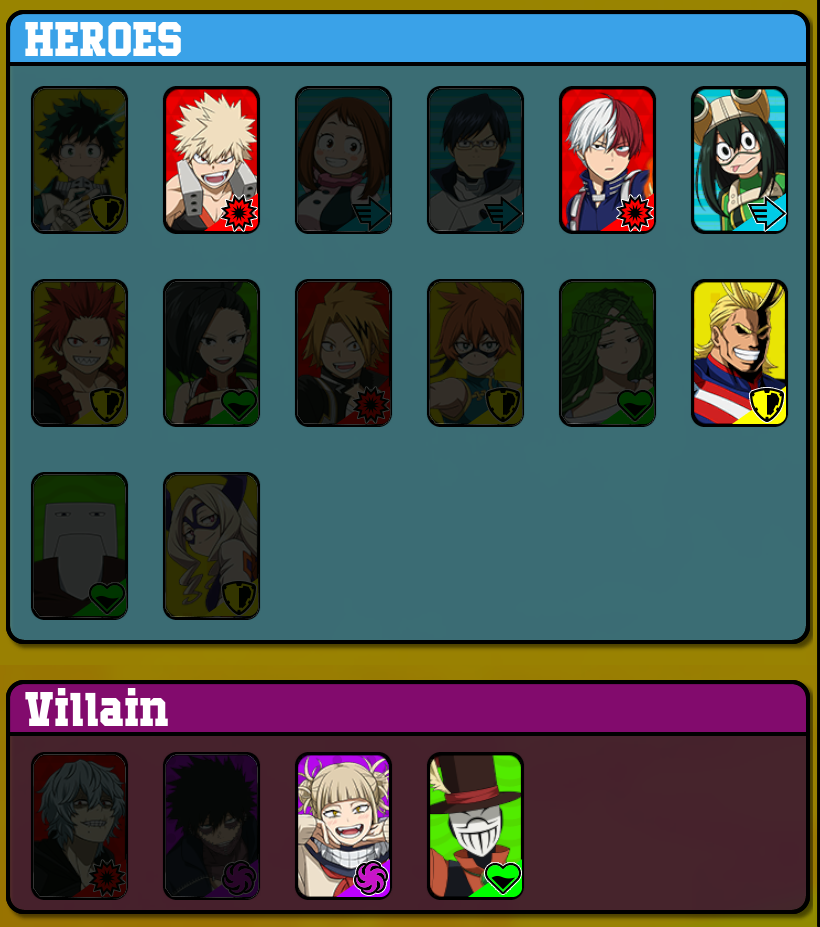 These six characters will reveal themselves to you over time., you don't even have to do anything special for this, you just need to play, and the more and better you play, the faster you can unlock them all.
For just playing, you will receive a special experience in the "LICENSE" menu, and the longer you stay alive on the battlefield, and also for other additional activities you will receive a different amount of experience, you can also get 100 glasses, and 10 000 points per battle. For each level you will need to earn 30 000 experience, and all such levels 30.
In my personal experience, I opened one level per evening, and in the first three days of the game I received three levels, thereby unlocking two characters. It can be faster for you, so much slower, but if you like the game, you probably won't even notice how this time flies by.
To see your progress, go to the "LICENSE" menu (License), you will find yourself on the local "Battle Pass" screen, then switch from the "Season" tab (temporary license window) on «Special» (permanent license window).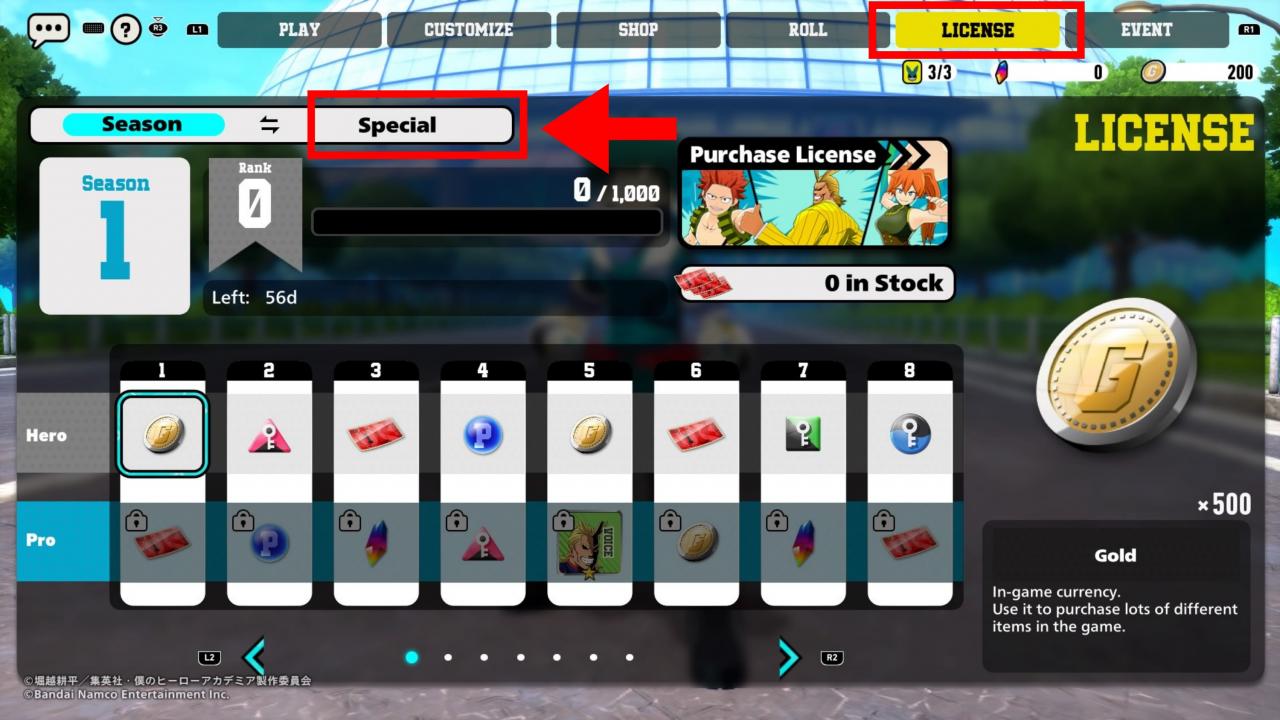 In the same menu you can see at what level the characters are unlocked. In order: "Katsuki Bakugo" on the 2nd, "Shoto Todoroki" on the 3rd, "Tsuyu Asui" on the 7th, "Himiko Toga" on the 13th, "Mr. Compress" at level 15 and "Almighty" unlocks at the final level 30.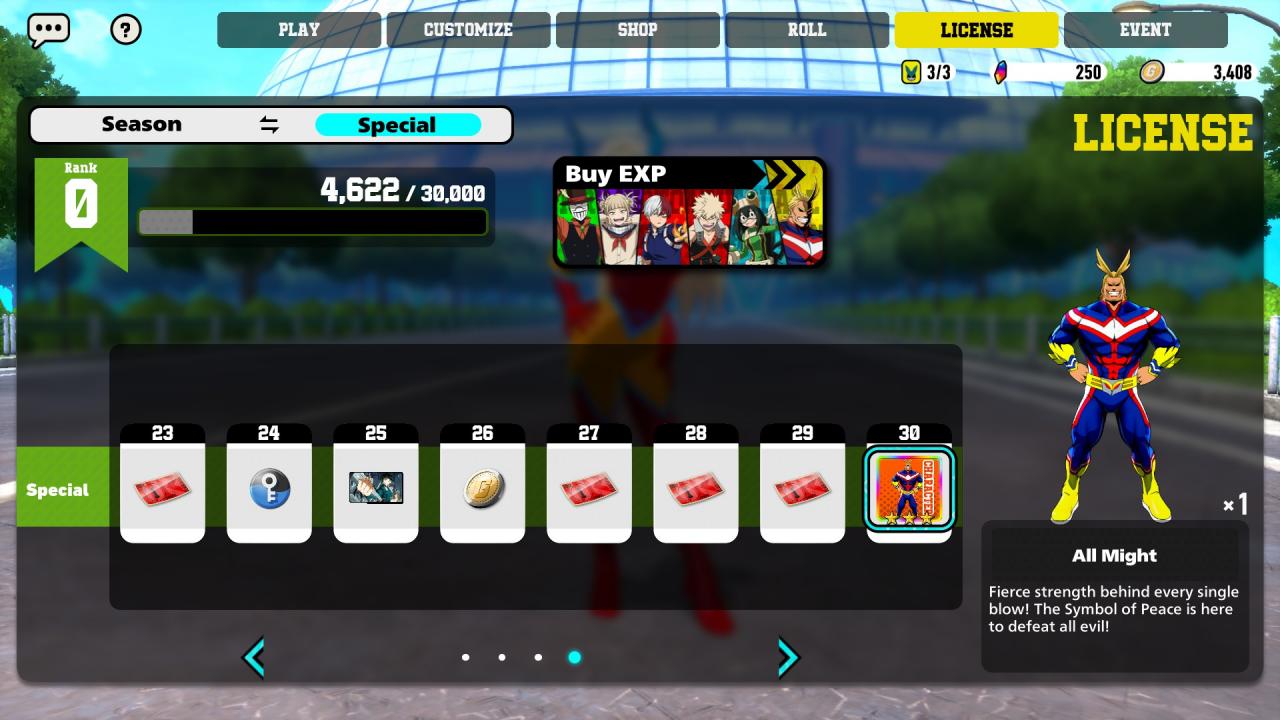 Gacha
Ibara Shiozaki / Ibara Shiozaki (Support / Support)
Momo Yaoyorozu / Momo Yaoyorozu (Support / Support)
Eijiro Kirishima / Eijiro Kirishima (Storm / Assault)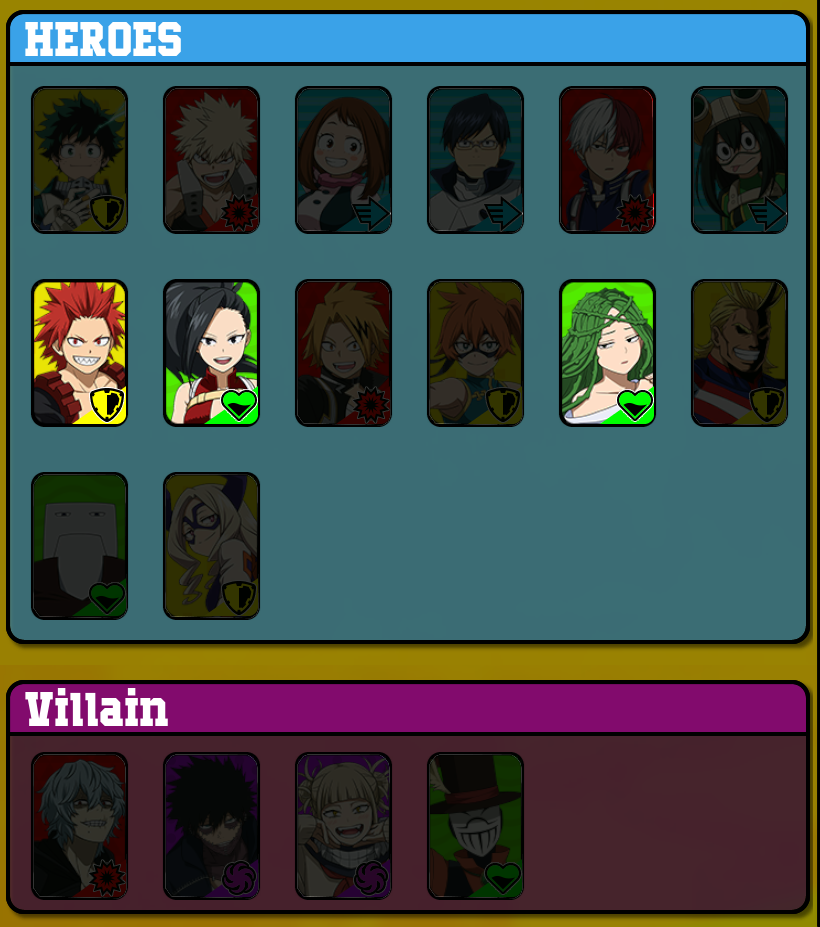 Let's move on to the most unpleasant moment for many players, this is a paid way to get some heroes, namely the temporary "gachi" banner, that is, a system of random drops of items from chests, which you will purchase for tickets received in various tasks and events, as well as directly purchased for real money.
As with any other gacha or loot box system, it all depends solely on your luck, as well as the number of tickets spent.
For example, at the start of the game, all players were given about 50 attempts to open chests, and tried to open them on 5 different accounts, I only received one 1 of these 3 characters, in other cases I got nothing.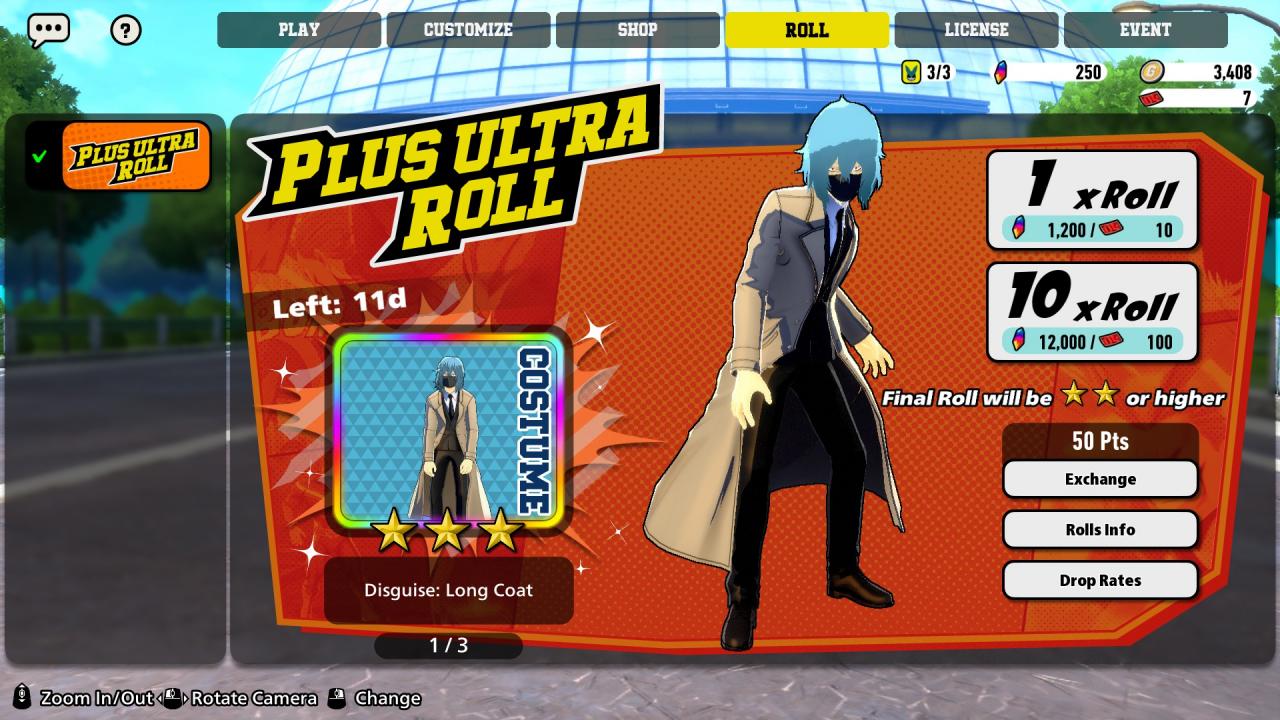 But for those who are ready to invest a little real money, there is a small plus, namely the guaranteed receipt of one of the three characters, for this you only need to spend 200 tickets to one of these temporary banners, how to accumulate special cashback marked "Pts", for which you can purchase any of the three characters to choose from.
It is not yet known whether these "Pts" will burn, or they can be transferred to the next banner, but just in case, it's better to save up tickets for 200 attempts, so you don't lose anything.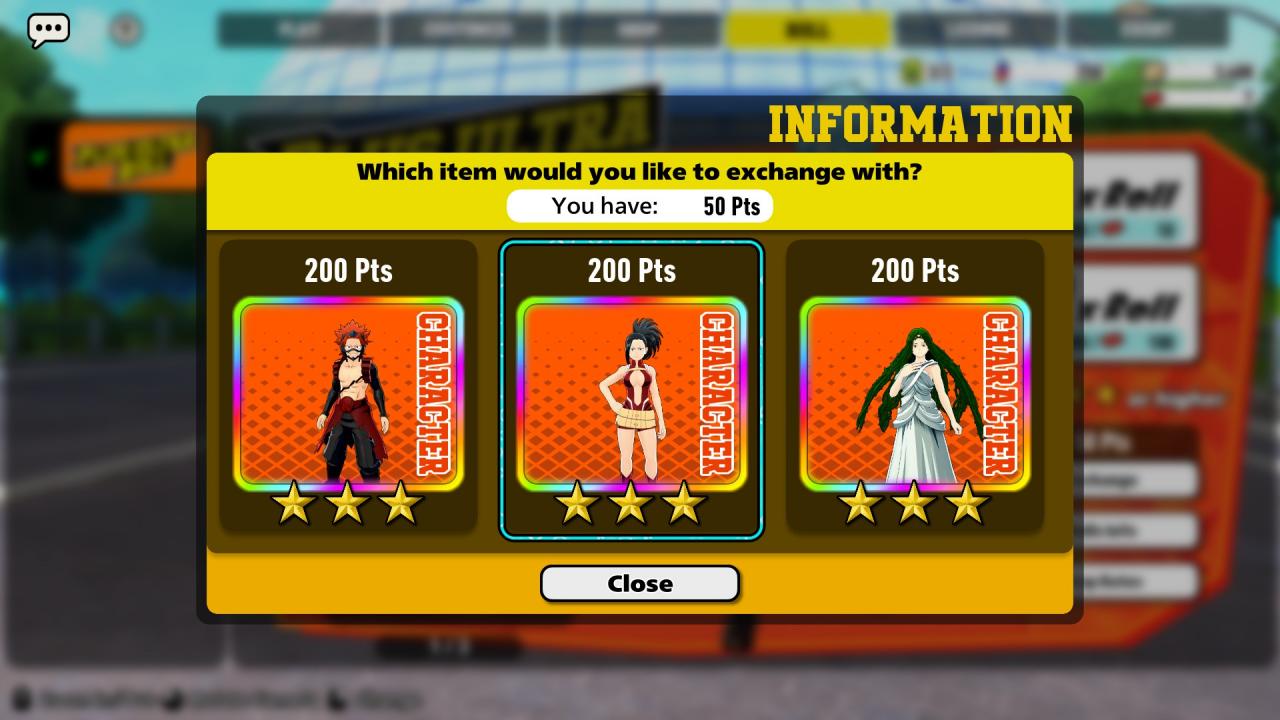 Tickets for cashback
Tenya Ida / Tenya Iida (Speed / Rapid)
Denki Kaminari / Denki Kaminari (Hit / Strike)
Itsuka Kendo / Itsuka Kendo (Storm / Assault)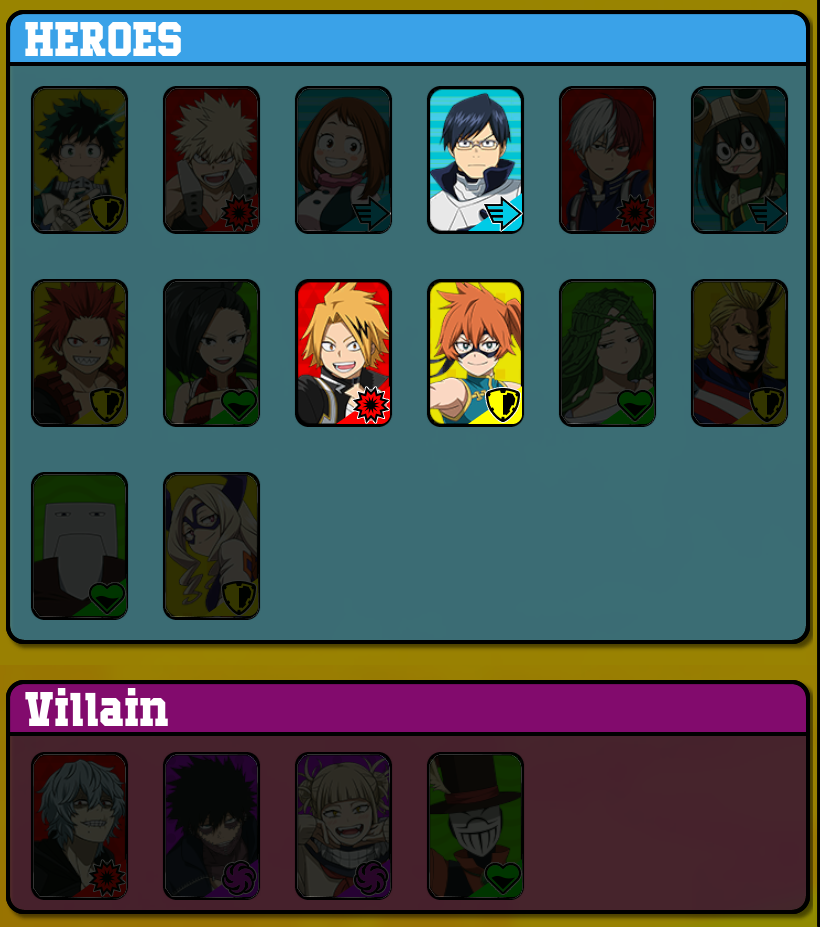 You can get one of these characters immediately at the start of the game, like like one special coupon (Character Ticket) to open similar characters you will be sent to your in-game mail, to do this, you just need to go to the appropriate menu with the image of an "envelope" and the inscription "Notifications" (notifications) at the bottom of the screen, next to settings. You just need to click "Claim All" (get everything), and the coupon will be yours immediately.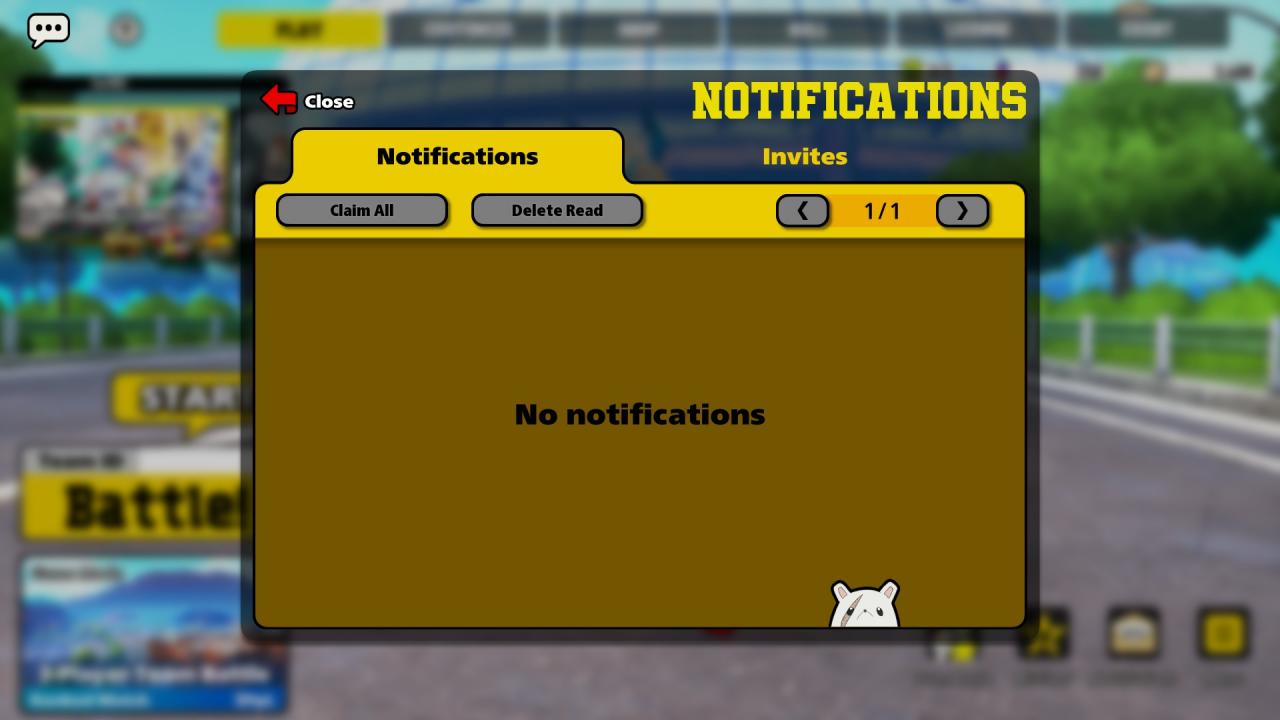 To get one of these three characters already at the start, select it from the main "PLAY" menu (play), and you will immediately see that there is an "Unlock" button at the bottom of the screen (unblock).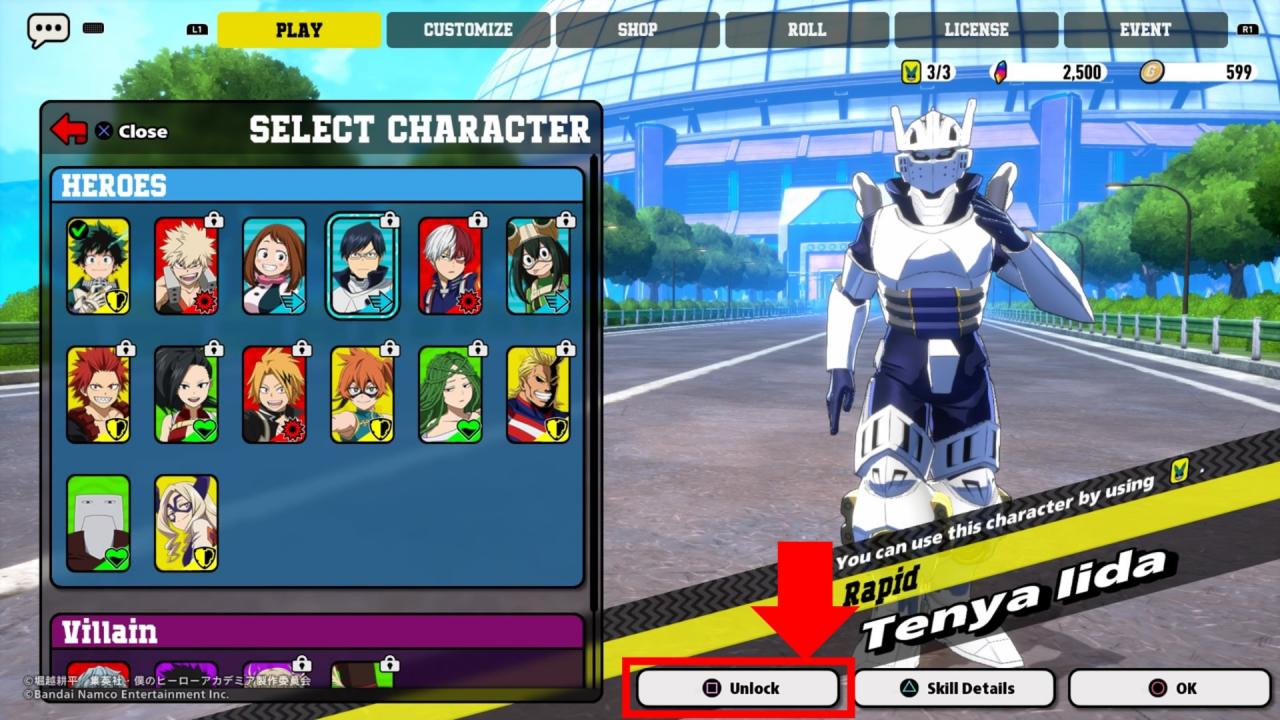 By clicking on it, a menu for receiving a character will open in exchange for the coupon you previously received., all you have to do is click on the "Purchase" button (purchase), and you will have this character forever.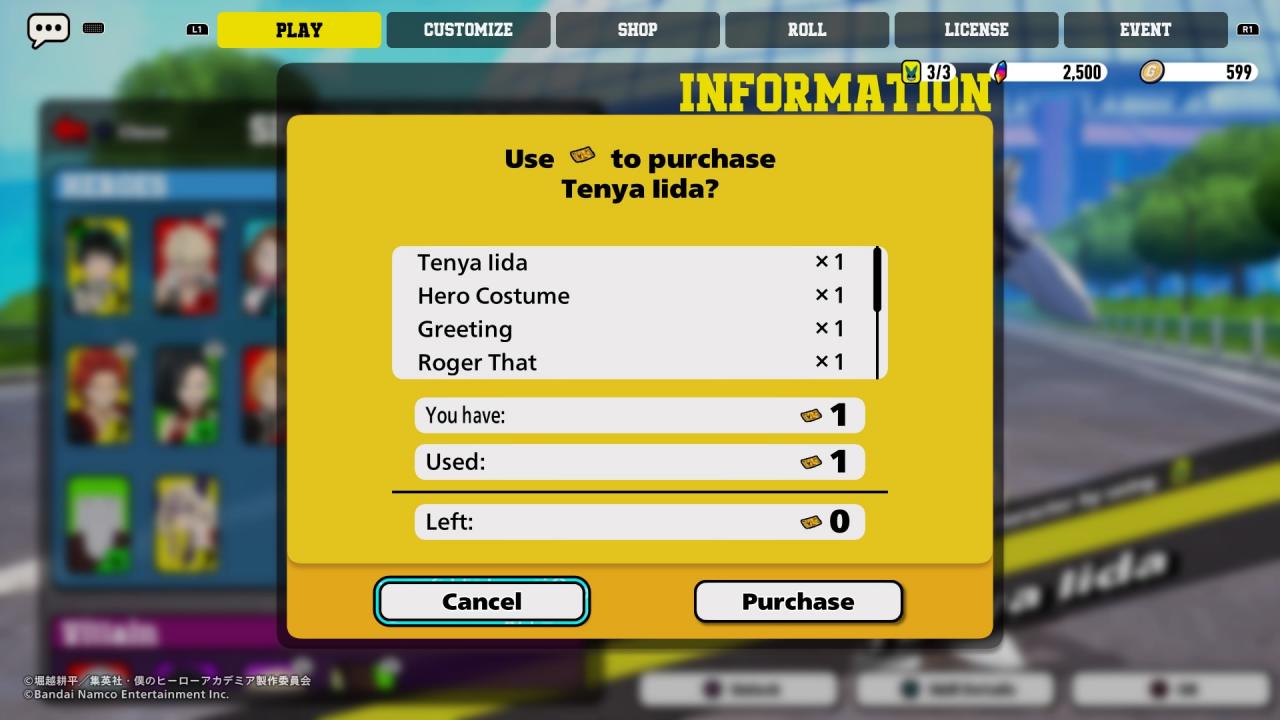 The rest of the characters of this type can be obtained by purchasing the same special coupons for cashback after you spend your tickets in the local gacha (what was the previous section of the guide about?). After you spend the accumulated tickets in the "ROLL" menu (spin the local gacha), you will sometimes receive those items from chests, which you already had before, and for the fact that this is a repeated drop of the same item,the game will give you cashback (image of a dark droplet), and you can already buy special tickets for it.
There are two cheap tickets for purchase in the in-game store (for 100 and 200 glasses), so the second and third characters will not cost much, but then you will have to spend 300 currency points.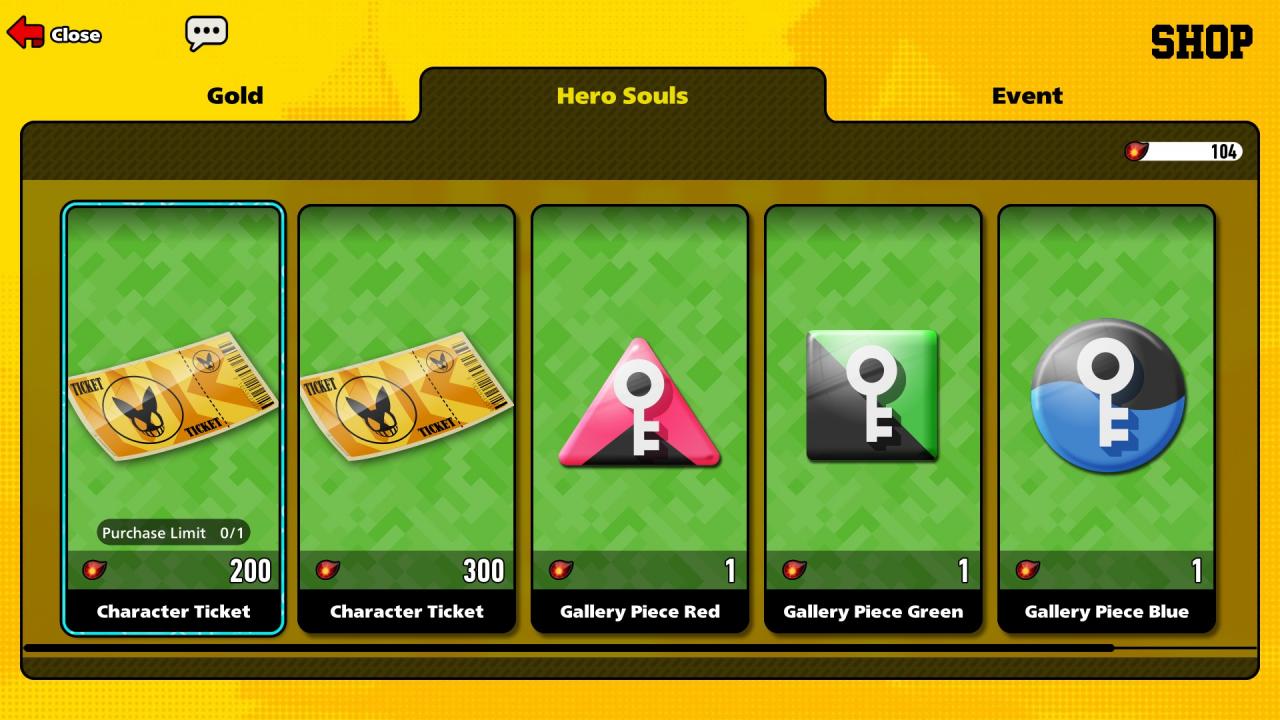 Getting points depends solely on your luck, because if you get a repeated non-rare item from your chests (for example voice emotion), then you will only get 1 cashback point, but if you get the same rare item for the second time in a row, such as a legendary skin or character, then you will immediately receive 200 glasses, and you can easily purchase such a coupon right away.
Future characters
Shota Aizawa / Seto Aizawa (Support / Support)
All For One / All For One
Endeavor / Angie Todoroki
Togata was surprised / Mirio Togata
Nejire Hado / Nejire Hado (Hit / Strike)
Over Haul / Kai Chisaki (Hit / Strike)
Twice / Jin Bubaigawara
Hawks / Keigo Takami (Speed / Rapid)
Kurogiri / Kurogiri (Support / Support)
Neito Monoma / Neito Monoma (Technics / Technique)
Hitoshi Shinso / Hitoshi Shinso (Technics / Technique)
President Mic / Hizashi Yamada (Technics / Technique)
Kyoka Jiro / Kyouka Jiro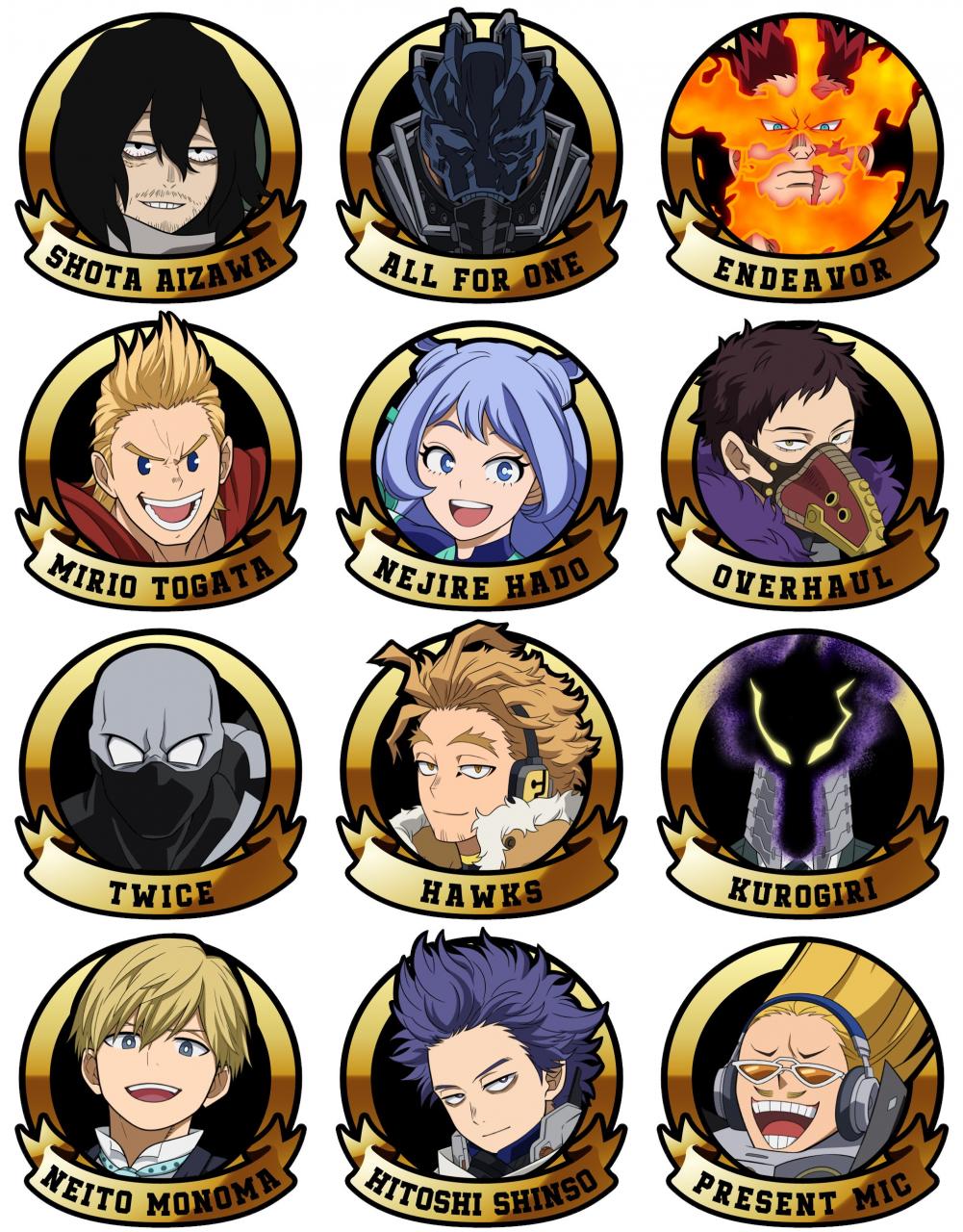 If you dig a little into the game files, then you can understand that the developers are planning a lot of characters in the coming updates, for which it is allocated 113 total slots. Although of course it is unlikely that there will be such a large number in the end, but on the other hand, considering that the current gacha banner is only available 2 weeks, and if the trend repeats, they at least 1 the character will need to be released in such a short period. In addition, in addition to the gacha, we can already purchase more than 4 tickets for additional characters, and so far there are only such 3, that is, we can assume that new heroes and villains will be added free of charge.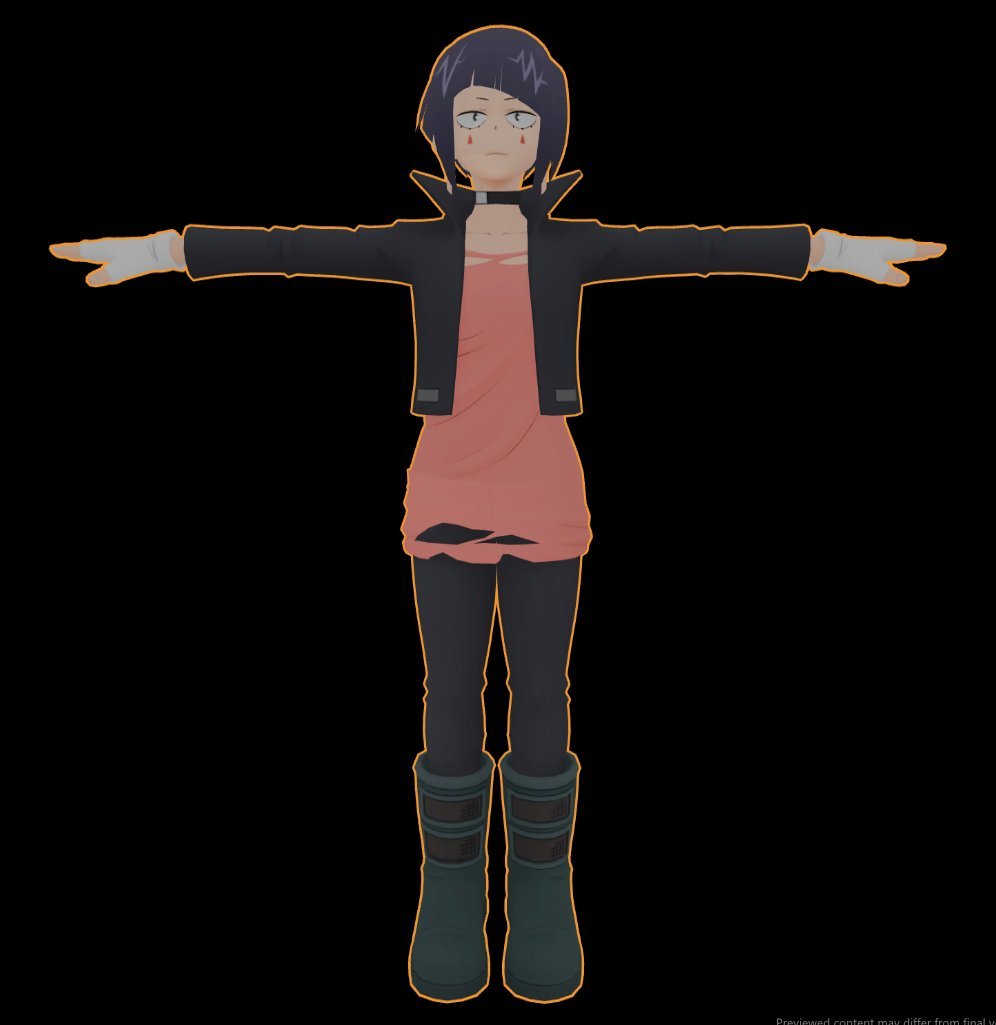 Related Posts: