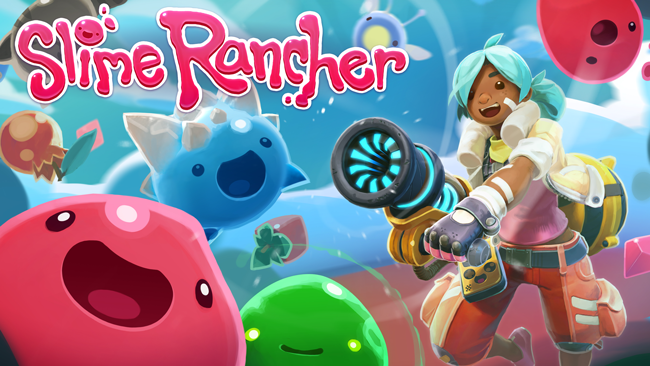 This guide lists all the achievements in Slime Rancher and how to get them.. I will also give you some tips, how to do it the easiest way!
1. Introduction
Hello!
Slime Rancher had some achievements, when you are not quite sure, what is better to do, to get them – that's what this guide is for!
I will give you a list of explanations for each achievement., and, if there are certain tricks, etc., I will also talk about them. note, this is a text guide only!
They are listed according to the difficulty level (bronze, silver, gold).
2. Bronze achievements
Plort Peddler
->Sell 100 plorts on the market
Transplort
-> Sell 500 plort on the market
Fortunate
-> More than 5000 newbucks
One Person at a Time
-> Join the 7Zee Awards Club
At home, you can climb the 7Zee levels and receive various rewards for money.
Color Me Impressed
-> Use color packs, to repaint buildings and technologies on the ranch.
You can get chrome packages from 7Zee Rewards Club.
Tasty!
-> Feed 50 slimes their favorite food on the ranch
You can read about your favorite slime food on Slimepedia.
Buck Buck Bagu-
-> Feed 100 chicks slime on the ranch
Omnivorous
-> Feeds the pink slime on the ranch 10 different types of food.
Salad Bar
-> Have 3 different vegetable gardens on the ranch at the same time
Fruit Cocktail
-> Have a ranch 3 different fruit trees at the same time
Carousel
-> burn old chicken in an incinerator
You… Monster!
-> burn chicken in an incinerator
Burstin' at the Seams
-> Fills in at least 50 units in all slots of the fully modernized silo.
Fully redesigned silo has 3x4 slots. It means, what you need at least 600 units. It also doesn't matter, what do you fill the silos with, each slot must have at least 50 units.
Boop!
-> Let cat slime headbut you in the nose.
May be, not very obvious, but just stand in front of the cat slime and wait a minute.
Catch!
-> shoot slime
Onward… to SCIENCE!
-> Make your first slime gadget
You can make these gadgets in the laboratory.
Up All Night
-> Stay awake with 6 morning until 6 in the morning.
Not My Morning
->die before 10 in the morning.
After that, how did you get up, just jump into the ocean behind the house
While You Were Away
-> Back to the ranch in over 24 o'clock
Best of the Worst
-> Place the slime on the slime scene # 1
You will not be able to get this achievement., if you play peacefully. You can make this gadget in the laboratory
Rush Challenger
-> Get at least 10 000 newbucks in a rush
At best, you should check out the Quick Mode guide.
3. Silver achievements
Plort Authority
-> Sells 1000 plort on the market
Plort Powerhouse
-> Sells 2500 plort on the market
Free Rangin'
-> Collect 50 fruits in one day at the ranch
Well-Off Rancher
->More than 25000 newbucks
Hasty Exchange
-> Complete the task with 6:00 to 14:00.
Ball Pit
-> Jump into the aviary, where there is at least 40 slugs.
Risky Business
-> Have at least 3 different Largo in one aviary
Six Pack
-> Have at least 6 different slimes in one aviary
Pool Party
-> Fills the pond at least 5 different slimes
Home means a pond
Fully Loaded
-> Have a fully developed aviary, ranch garden and silo.
Bea the Builder
-> Create 35 slime gadgets
Mint in Box
-> Buy at least 10 different slime toys.
To get this achievement, you need at least 12 Level 7Zee Rewards Club.
Jelly Belly Burst
-> Burst Slime Gordo
Open Says Me
-> open the gate
Mine, All Mine
-> Discover the mine
On the Other Side
-> Discover the desert
Into the Past
-> Discover ancient ruins
Renewal
-> Bring life back to the glass desert
To do this, you first need to activate the ancient water in the glass desert. If you have this, you can use this water, to shoot flowers, that are heard in the glass desert.
Fireworks
-> Shoots into the air boom slime, need to explode before, how to land.
At best, breed boom largo in the wild and take it with pkm, then wait, until it starts to glow, and then shoot straight into the air.
That Only Works in Comic Books
-> Stands in the aura of green slime throughout 15 seconds
Controlling the Chaos
-> Have more 15 slimes in a vacuum in the desert at the same time
The easiest way to achieve this success – right in front of the ranch, just suck there about 30-50 pink slugs, shoot them in the corner and then announce them again.
Rush Champion
-> Received at least 35000 newbucks in a rush
cm. Rush Challenger
4. Gold achievements
Plort Tycoon
-> Sell 5000 plorts in the market
Upper Crust
-> More than 100 000 newbucks
A Quick Newbuck
-> Earn 5000 newbucks in one day
Diversification
-> Have a ranch 10 different types of Largo.
Never Stop Creating
-> Create 100 slime gadgets
Smoke, Fire and Mirrors
-> Discover the glass desert
Doors Like These
-> find out, where Hobson's journey ended and started again
You will receive this achievement at the end of the Glass Desert..
The Adventure Continues!
-> Completes Adventure Mode
Adventure mode ends with letter, you will receive this email via 12 hours after receiving the last letter, if you read the latest posts from Hobson at the end of the glass desert. You will get success after credits.
Once please, Twice… Bitten
-> Hold varr slime 15 seconds
You cannot get this achievement, if you play Peacefully. You need at least 250 lives.
Hat Trick
->Get at least 3 gold plates made of gold slime
there is 3 paths to this success … 1. Good target … to get Plort of Gold Slimes, you have to shoot them … it means to hit 3 times. Second option – feed the golden slime to the golden ginger, then you get 5 gold plates. The third and "easiest" option – it's grind up 22 level 7Zee, where do you get the bonus in that, what every shot of gold slime gives 3 plot.
Gold Slimes appear randomly in certain locations, but there is a repository, where appear 100% golden slimes. At best, save this repository for exactly this success.
She's on Fire!
-> Dial at least 50 points in slime ball game
You will need at least a basket for slime balls, which you can do in the laboratory. After that, you will need a minimum 50 slimes, but i recommend more 70. Then you need to set up the basket and make the slime baskets. Use an elevated position at best, from which you can just shoot the basket.
Pro Style
-> Complete the slime pedia
At best, head over to the Slime Rancher wiki and search for something, what are you clearly missing.
Rush Plortmaster
-> Get at least 75000 Newbucks in a rush
Watch Rush Challenger
Related Posts: