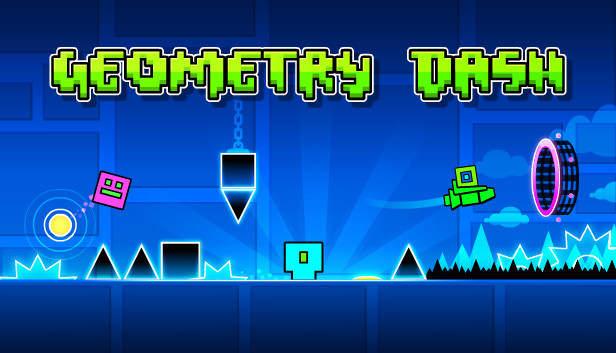 In this guide I will tell you. How to become more skillful in geometry dash. And quickly and efficiently complete the levels.
Prologue
This guide is for those who want to become a star geometry dash and go to the pro stage.. The main thing when reading this guide is to remember. Whatever happens DO NOT BOMBS. No need to beat, break devices. Shout to the whole room. You only shorten your life so much. Happy reading :).
Easy
First, I advise you to go through the basic levels.. To get acquainted with the initial aspects of the game. I advise you to go through the original levels and some simple community levels.
Normal-Hard
After getting acquainted with the aspects and passing the first levels, we continue to go forward. Difficulty levels are next Normal and Hard. At this stage, beginners often make mistakes.. The biggest mistake is jumping from level to level. If you go through the 1st level then the 2nd without completing the 1st, then you will be stuck at the development stage. This applies to all stages. I also recommend passing levels from players created to improve the skill on the wave, spiders, etc..
Harder
Difficulty level harder not much harder hard. But it's easier to insane. At this stage, difficulties should not arise. Gone a few levels? Ready to move on? Then they drove.
Insane
The most important stage in my opinion. Here you need to pay special attention and make special efforts.. If you learn to quickly and painlessly pass the levels of this difficulty, then on demons it will be easier for you. Trust me)
Demons
Final stage, which I will split into 5 parts.
Easy demons – If you followed my advice, then there will be no difficulties with them.. But I still advise you to go through a few of them.. One of the lightest easy demons – The Nightmare. Then go harder and harder.
Medium demons – Demons who are not far from easy. I do not recommend sitting on them for a long time and moving on..
Hard demons – Unlike medium demons, they have gone far. You need to focus on these demons. Each passed demon will specifically increase your skill.
Insane demons – Difficult, but in the end, the number of passed demons of this difficulty should be greater than the rest.. They specifically increase your skill.. And all I have nothing more to say about them XD.
Extreme demons – The most difficult demons in the game (verified). After completing which you can consider yourself the winner of the game. But it's not that simple. Forces and energy go to them well, just sooo much. All in your hands :).
Impossible demons – At first I did not consider it necessary to add them to the guide, but still I consider it necessary to tell about them. They are demons (Not verified), which are theoretically possible to pass, but ultra complex. If you pass like this then you are a monster, not a man…
From SkyWay
Related Posts: