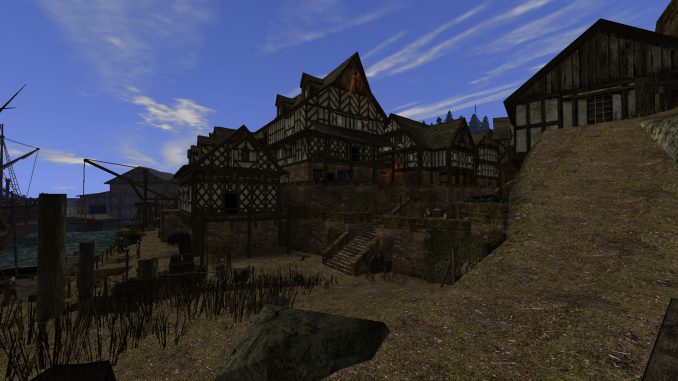 List of all achievements and how to get them.
Achievements (Updated)

1. It's just the beginning / This is just the beginning.
Complete all side activities on the ship in the introductory sequence.
Just talk to everyone (but don't talk to brother, Jorn), do what they ask and the achievement is yours.

2. Self-sufficient / Self-sufficient
Turn heavy branches into 50 arrows or bolts.
We can perform during the game, but we can get it on the ship through saving / loading.

3. Wanderer / Wanderer
Use all forms of fast travel.

4. Best friend / Best friend
Pet the dog.

5. How will it be in Khorinis? / How to say in Khorinis?
Create something, what was supposed to be a little joke.

6. Magician's path / The path of the wizard
Write your first 5 magic scrolls.

7. Fight club / Fight club
Who needs a sword, if fists – deadliest weapon?

8. Forsaken Gods / Forsaken Gods
Interact with each god's shrine.

9. I've changed my mind / I changed my mind
Complete quests to join the same guild, and then join another.

10. Part-time thief / Part-time thief
—

11. Arena master / Arena master
Win the arena.

12. Trojan horse / Trojan horse
Find an unconventional way to get into the city.

13. Valley Of Mines / Valley of mines
Get iron, gold, silver and magic ore.

14. Bounty hunter / Head hunter
Execute 6 contracts with wanted posters.

15. Trial of the Grasses / Herb Test
Be under the influence of three potions at the same time.
16. Just right for pay off a debt / Just right to pay off your debt
Have at least 10,000 gold.

17. Old friends / Old friends
Meet friends from past adventures.

18. Old school / Old school
Defeat a huge enemy by reducing it in size before the battle.

19. Our house, in the middle of our street
Borrow your own home.

20. Friendly fire / Friendly fire
If fire is best fought with fire, then with a wolf it is best to fight ... a wolf?
21. Father's will / Paternal will
—

22. Gear up! / Get ready!
Collect a complete set of uniforms.

23. Cast away / Outcast
Get to the farthest corner of the world.
From the place where we appeared at the beginning of the game on the shore, swim to the right (if you stand facing the beach), until you reach an island with two sea lurkers. There will be a cave on the island. We go into it, and when we leave we will meet a man. When we speak to him our achievement.
Achievement was described by @Venzern

24. Work, work and after work… / Work, work and after work…
Complete the training with one of the masters.

25. The Beast / Beast
Defeat the Beast.

26. Snatch the time
Stop cooperation, which did not bring the expected benefits.

27. Disarmed / Disarmed
—

28. Workaholic / Hard worker
Make two trades.

29. Hidden truth / Hidden truth
Delve into the most disturbing mysteries of human nature.

30. Tomb raider / tomb Raider
Find a place, which could not be found.

31. Rainy day stash / Rainy day's cache
Hearty food and good equipment – pledge of each expedition.

32. Fair fight / Fair fight
Everything comes back.

33. Dances with Wolves / Dances with wolves
Earn the trust of the island's most distrustful inhabitants.

34. Suicide squad / Suicide squad
We won't save everyone, but it's worth a try!

35. On His Majesty's Service / In the service of His Majesty
Complete all Royal Emissary missions..

36. Dethronement / Rejection
Some should really know, when to leave the stage ... undefeated.

37. Wares under counter / Goods under the counter
Eliminate the Merchant Guild Competition.

38.Traitors to the Crown / Traitors to the crown
Solve the problem with the City Guard.

39. Death looks good on you​
Help someone leave this world, without getting your hands dirty.

40. Royal escort / Royal escort
Lead four warriors in the service of the king on an adventure.
Related Posts: