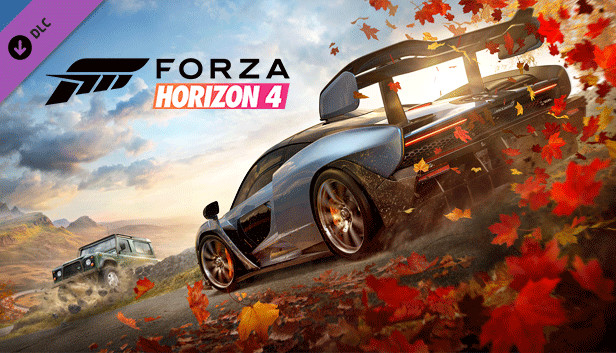 A fast and fun way to earn a lot of credits and skill points.
Cars and track
Making money in the game is relatively easy, just playing. But sometimes you may need substantial sums for the urgent purchase of useful real estate and expensive cars at the auction..
To make a lot of money and skill points quickly, we need a special car and a comfortable, easy track.
I have prepared special tunings for the most profitable cars. The settings take into account the characteristics of the track and facilitate accident-free, which means, fast track passing.
The most profitable machines for farming – this is:
Aston Martin Vulcan Forza Edition '16
Tuning: 379 742 035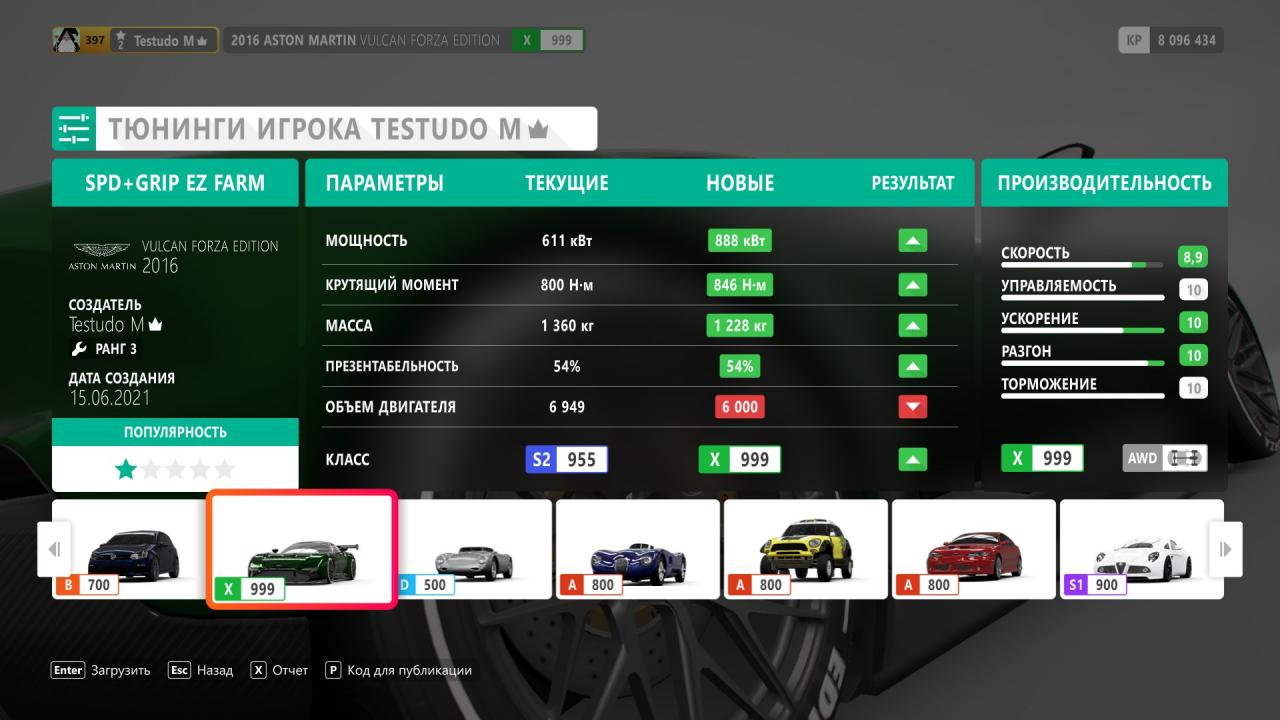 Pagani Zonda R Forza Edition '10
Tuning: 147 493 534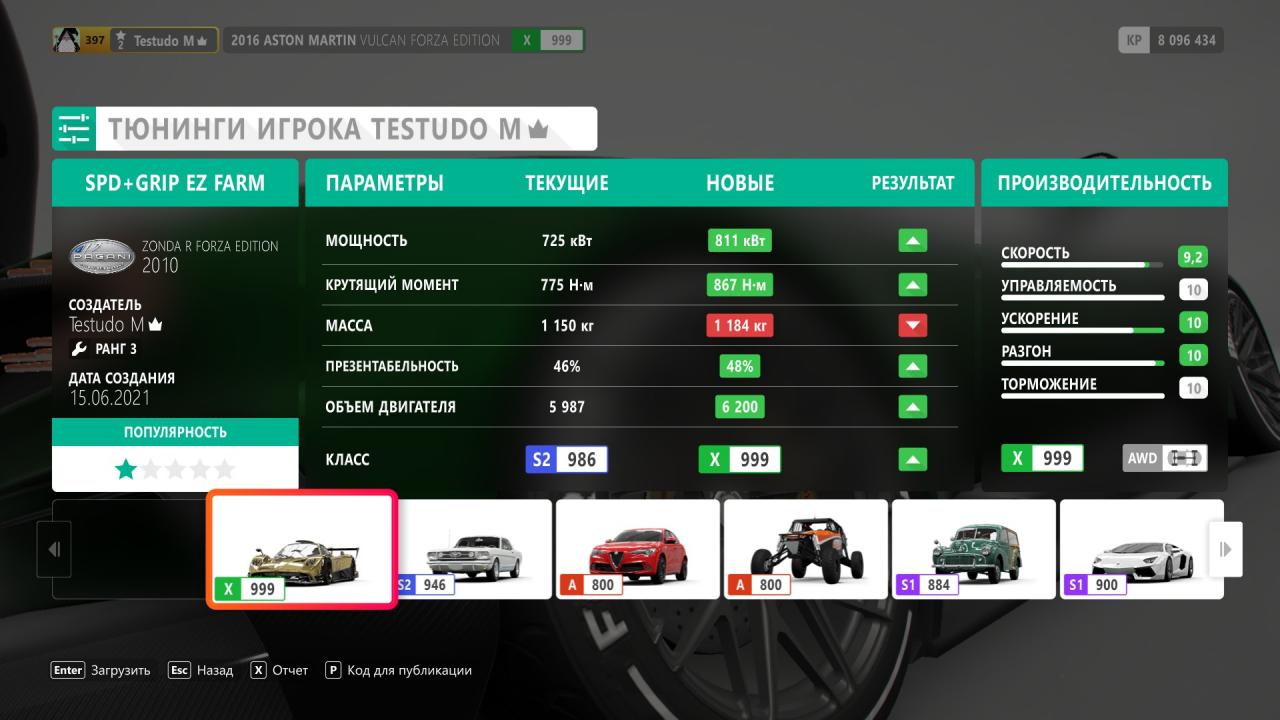 I also prepared a special track. It is similar to other popular farming tracks., but I tried to take into account some of the unpleasant or inconvenient features of these tracks and fix them in my.
It is called tricky: "200K CR & 35K SP – 17 MIN". Search code: 165 867 225.
I recommend adding it to your favorites for quick access..
Trail from 5 circles (in fact, two long straight lines – roundtrip). Runs in approximately 17 minutes. In this case, we will earn approximately 260000 credits, a huge number of skill points and raise several ranks (newbies can get as much 5-6 pieces at a time!), and we will also get a few "twist" wheels of luck. And if you are lucky, then "twists" additionally bring a lot of money and beautiful, expensive cars.
Track code: 165 867 225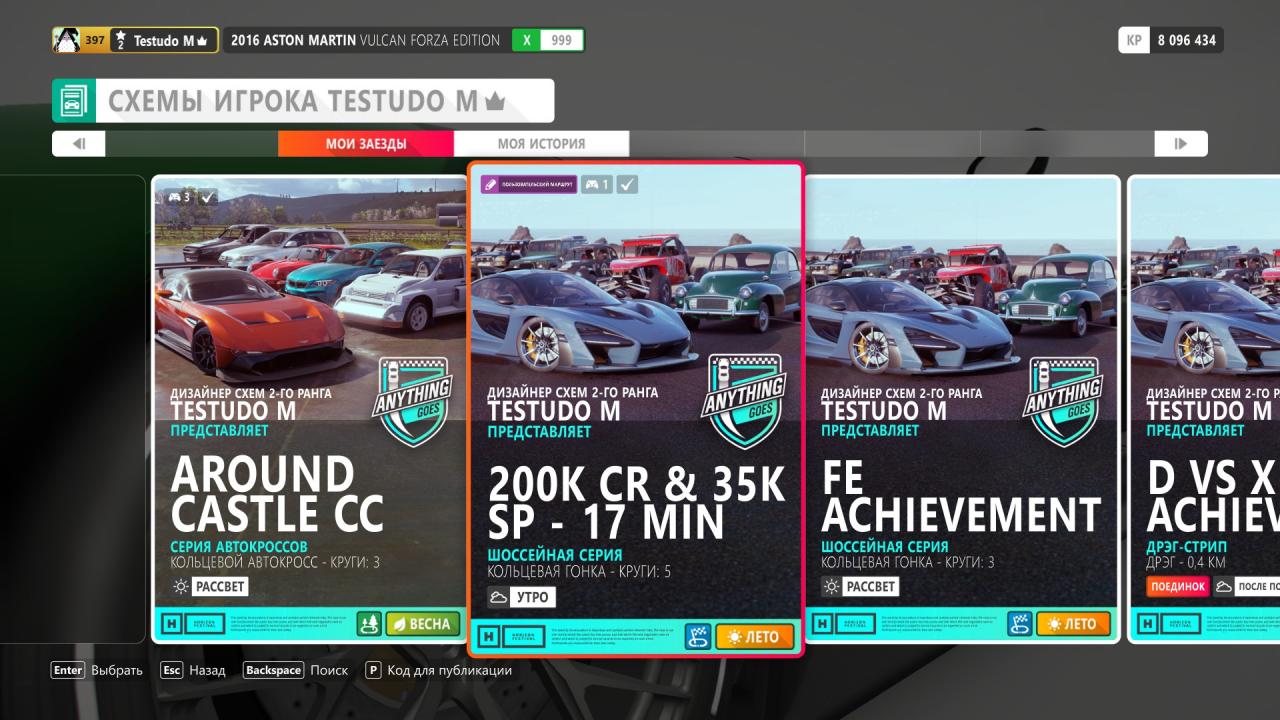 Additional loans
Skill points earned can be profitably converted into credits.
To do this, we buy a car in a car dealership Porsche 911 turbo 3.3 '82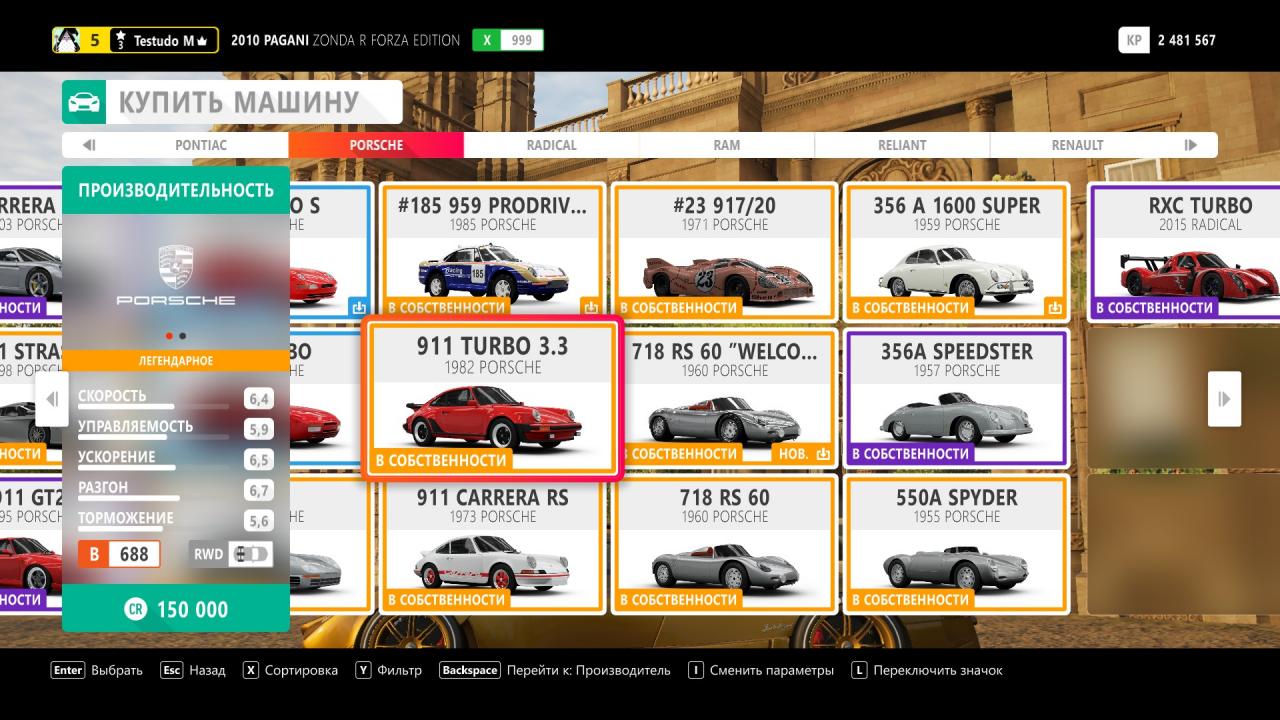 AND "pumping" its to a surprisingly pleasant gift in 300000 credits (at the same time you can hook "twist" per skill point).
We spend on one car 20 skill points, while earning 150000 loans clean and one "twist". You can buy as many cars as you like and thus earn credits. Do not forget to remove excess cars from the garage later. – space is limited!
Conclusion
If you don't have cars in your garage yet, profitable for the farm, you can pass the track in any other car convenient for you – and make money quickly enough for the car you need. the main thing, to keep the machine of your choice stable and fast on long straight lines.
I recommend not to get involved in farming and not try to make hundreds of millions. Earn this way only for serious and urgent purchases, otherwise the game can quickly bore you. In addition, usually after buying several "imbovy" car credits and skill points and so will pour, like a cornucopia. Do not forget "pump" for experience points of the car from your garage. And not only those, which you often use. A lot awaits you "twist", loans and other pleasant surprises, up to prize cars inside other cars!
I wish you a pleasant game and good luck with the wheel of luck.!
P.S. Sometimes I tune cars of interest to me for fun. Collecting, usually, with and without standard engine "forza spoilers". Subscribe to my in-game creative profile, if you like my tunings. You can also order tuning especially for you. – I will be interested in trying to make a car, which you like.
If you have any questions, comments or additions to this guide, then do not hesitate, write comments.
Related Posts: