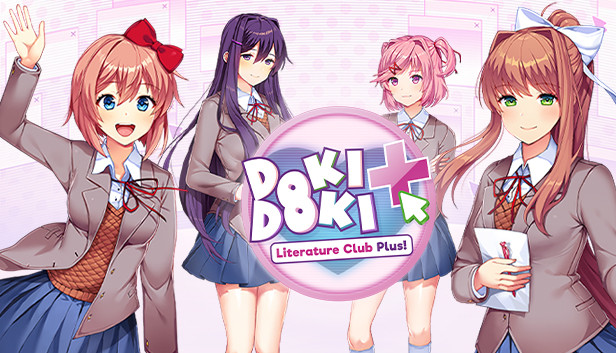 Doki Doki Literature Club Plus Achievements Guide!
Currently under development.
The guide will be updated and supplemented with information as the author receives all achievements..
Total in i̵̯̬̱͑̾g̷̦͍̍̐̂̋ŗ̴̗̝͈̉e̶̖̖̙̽͆̐͗͒ 19 achievements.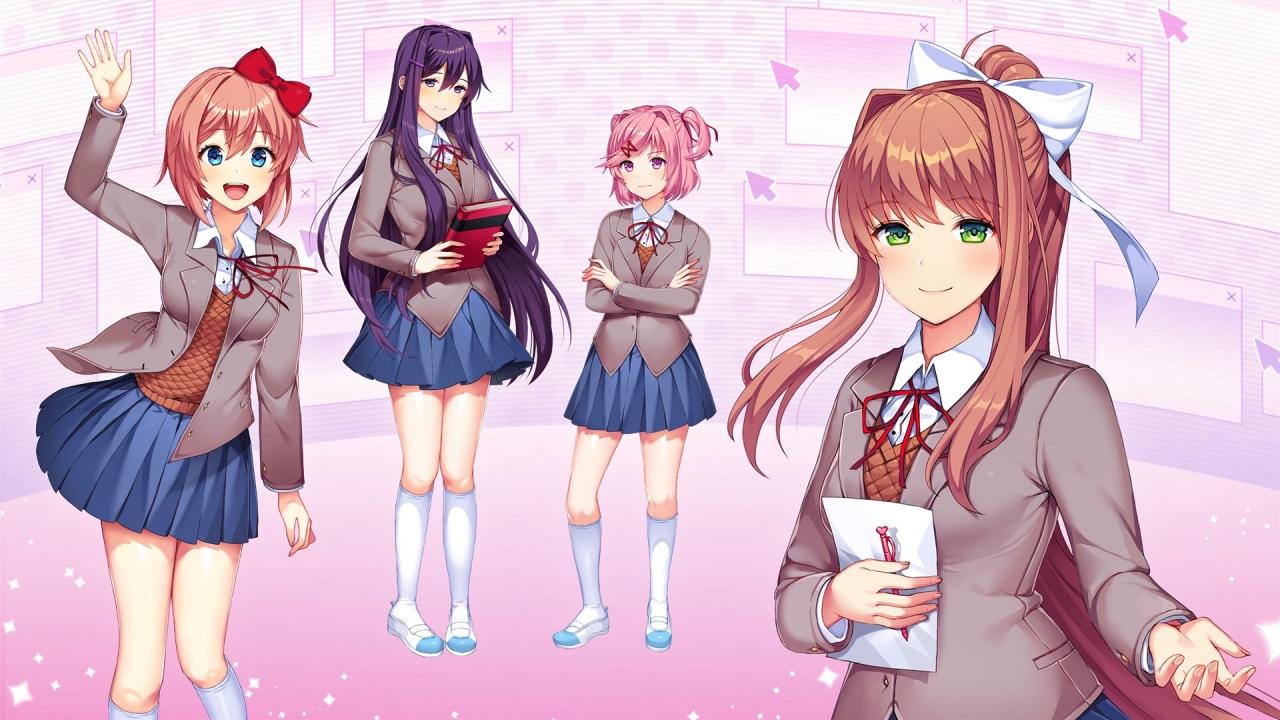 Start a New Game

Start a new game.
This achievement is not given, if you just press "a new game" at the first call.
It is given, when do you start "н̴̝̓͊͛̊о̸͈̇̈́̅͝в̷̛̼͙̎͌̚͝у̴̛̦͛ю̶͎̋͊̈́̃̃ ̴̜̿͝и̵̭̞̗͋̂̈͑͗г̶̙͖̅̾̀͝р̵̢̢̫̩̩̔̎͝у̴̺͖̤̙͗̈́̊", after the first "end". After that.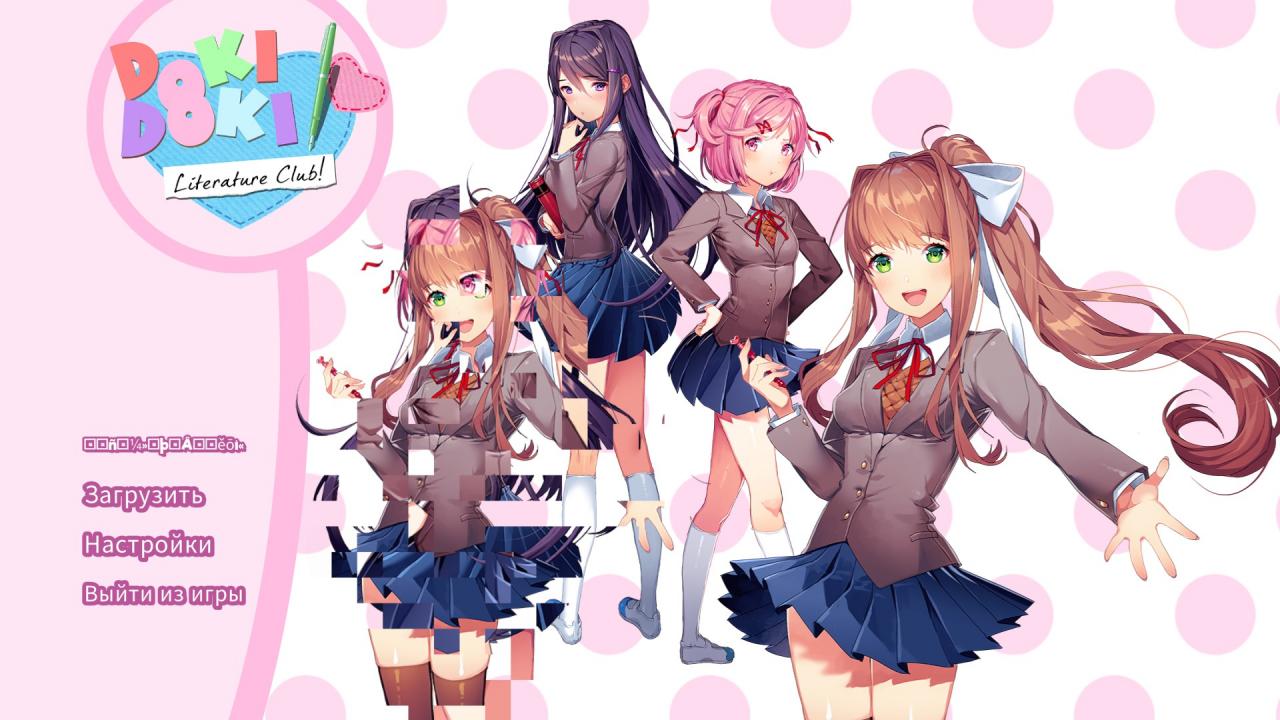 Any% WR attempts (hidden)

Write a poem for 20 seconds or less.
Doki Doki Poetry Slam (hidden)

Spend so much time writing a poem, that the music will start over.
Just write a poem for about two minutes and the achievement will unlock.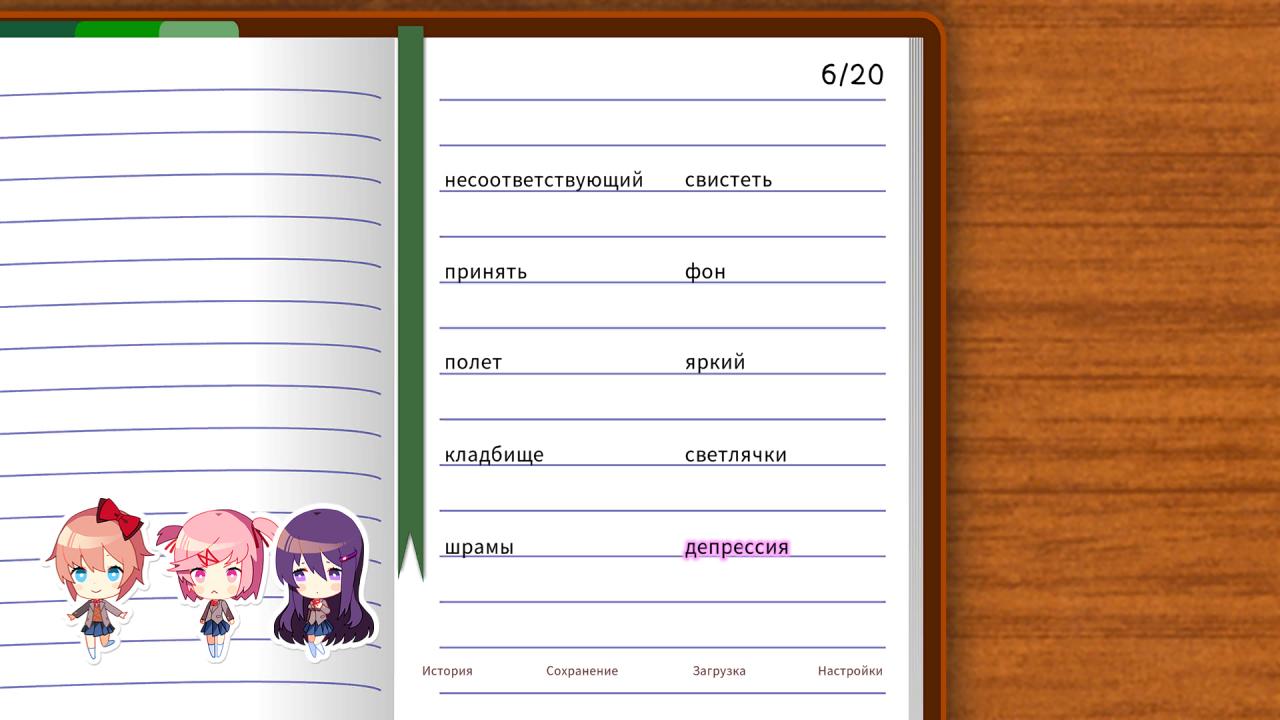 Buy my mixtape (hidden)

Spend 20 minutes, listening to music on the desktop.
Right here: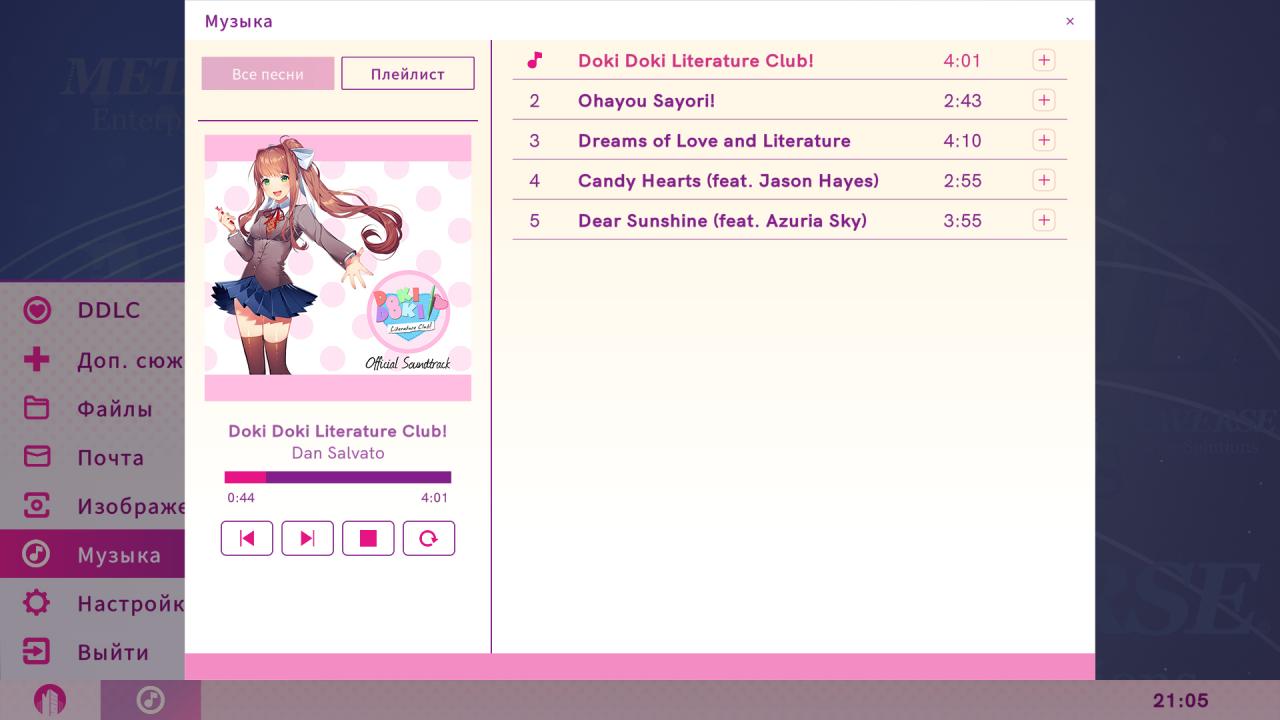 Good feature (hidden)

Draw squares on your desktop.
You just need to select a square area on the in-game desktop many times and the achievement will open: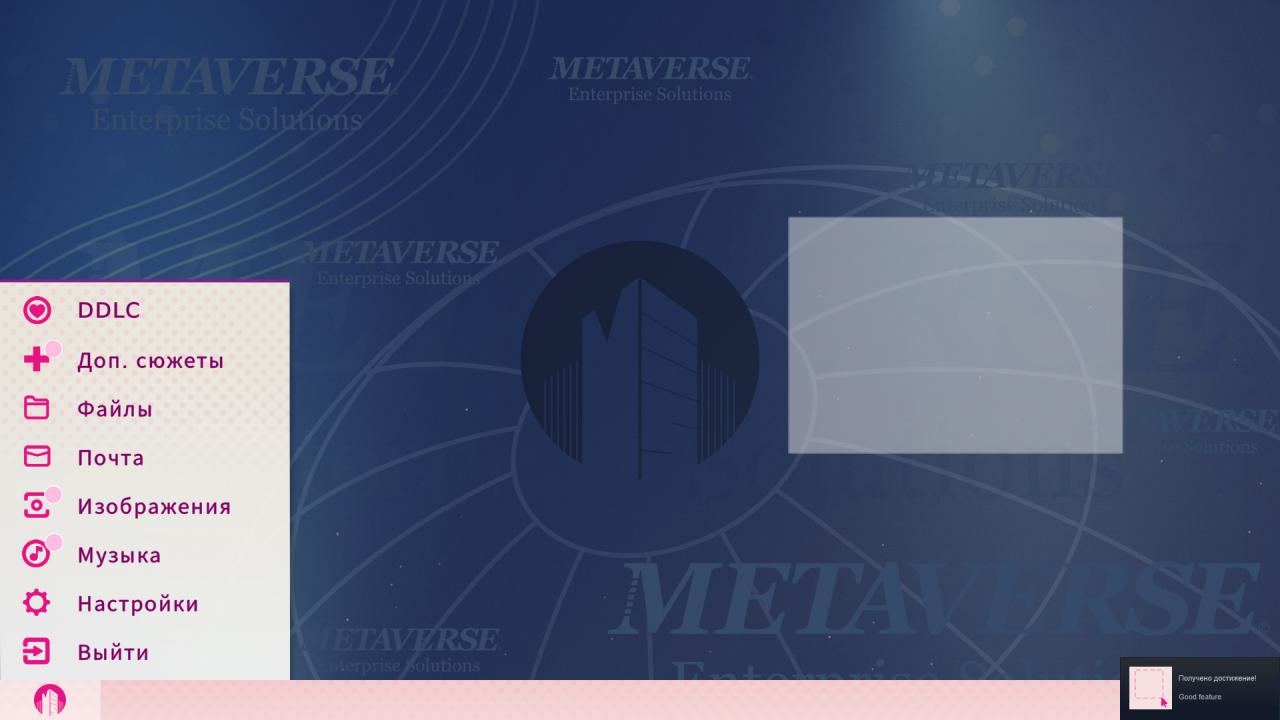 Perfect! Sayori

Write the perfect poem for Sayori.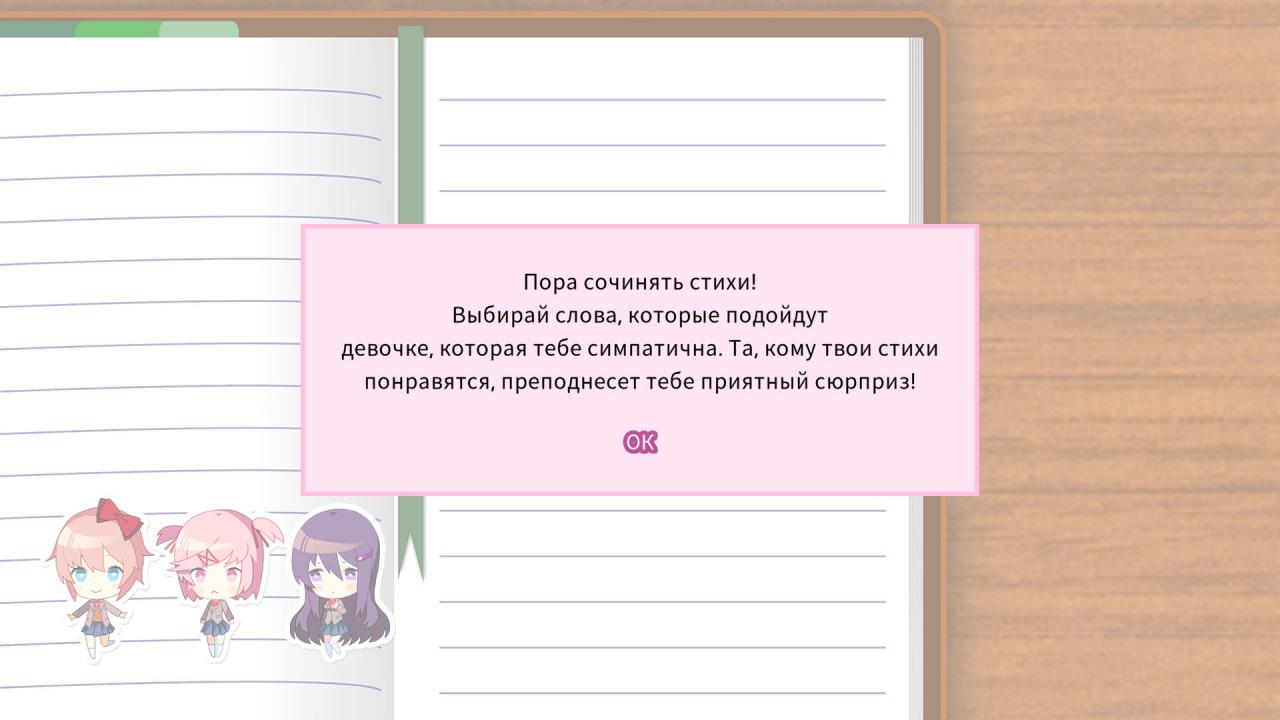 Need to, so you all 20 words, which you chose, liked Sayori (her chibi icon bounces, if a suitable word is chosen)
The words, which Sayori will like:
Death
Depression
Sadness
Pain
Painfully
Tragedy
Scars
Alone
Hope
Happiness
Love
Adventure
Nicely
Joy
Fireworks
Melodrama
Tears
A heart
Marriage
Passion
Childhood
Fun
Color
Friends
A family
A party
Vacation
Laziness
Dreams
Holiday
Bed
Pen
Shame
Fear
Heat
Flower
Coziness
Dance
Sing
Cry
Laugh
Dark
Sunny
Cloud
Calmness
Stupidity
Flight
Miracle
Undivided
rose flower
Together
Promise
Enchant
Beauty
Cheer up
To smile
Broken
Precious
Prayer
Clumsy
Forgive
Nature
Ocean
Dazzle
Special
Music
Lucky
Failure
Loudly
Peacefully
Enjoyment
Sunset
Fireflies
Rainbow
Play
Sparkle
Emptiness
Amazing
To grieve
To accept
Amazing
Wonderful
Defeat
Helplessness
Adversity
Treasure
Prosperity
Memories
Perfect! Natsuki

Write the perfect poem for Natsuki.
Need to, so you all 20 words, which you chose, liked Natsuki (her chibi icon bounces, if a suitable word is chosen)
The words, who will like Natsuki:
Cute
Anime
Kawaii
Fluffy
Net
Sweetness
Puppy
Kitty
The clouds
Pomade
Ice cream
Strawberry
Pink
Chocolate
Palpitations
Kiss
Shopping
Melody
Tape
Bounce
Mimimi
Skirt
Cheeks
e-mail
Sticky
Sonorous
Shiny
Gnaw
Fantasy
Sugar
Giggle
Marshmallows
Jump
Jump rope
Peace
Spinning
Twirl
Lollipop
Чпоньк
Bubbles
Whisper
Summer
Waterfall
Swimsuit
Vanilla
Headphones
Games
Socks
Hair
Playground
Nightie
A blanket
Milk
Inflate
Anger
Dad
Valentine's Day
Mouse
Whistle
Beep
Rabbit
Jump
Perfect! Yuri

Write the perfect poem for Yuri.
Need to, so you all 20 words, which you chose, liked Yuri (her chibi icon bounces, if a suitable word is chosen)
The words, who will like Yuri:
Philosophy
Suicide
Anxiety
Existence
Horror
Unstable
To despise
Tenacity
Imagination
Secrets
Vitality
Radiant
Scarlet
Tornado
Afterimage
Dizziness
Disorientation
The essence
Background
Starry sky
Laughter
Pollution
Intelligence
Analysis
Entropy
Bouncy
Spooky
Inappropriate
Rage
Sent by god
Slaughterhouse
Changeable
Tenacious
Aura
Inferno
Unable
Fate
Infallible
Agony
Fluctuation
Uncontrollability
Extremum
To escape
Sleep
Disaster
Bright
Saturated
Question
Pus
Sentence
Cage
Explode
Pleasure
Lust
Sensuality
Climax
Electricity
Renounce
Infinity
Eternity
Time
Universe
Endless
Raindrops
To desire
Unbridled
Scenery
Portrait
Journey
Modesty
Frightening
Melancholy
Enlightenment
Redeem
Breath
Prisoner
A wish
Cemetery
Perfect! Monika

Write the perfect poem for Monica.
Stonks (hidden)

Review the flooring project plan.
To do this, you need to read the file Project plan.txt, located in files on the desktop inside the game (not on your computer).
The file is located in the following path: for internal use > 2 > 2 > 1.
Attention! You can open the file only at certain times. As you noticed, the time on the in-game desktop is synchronized with the time on your PC. This file can only be opened in 2:40. We just change the time in your Windows settings., expanding the game, open the file and get the achievement: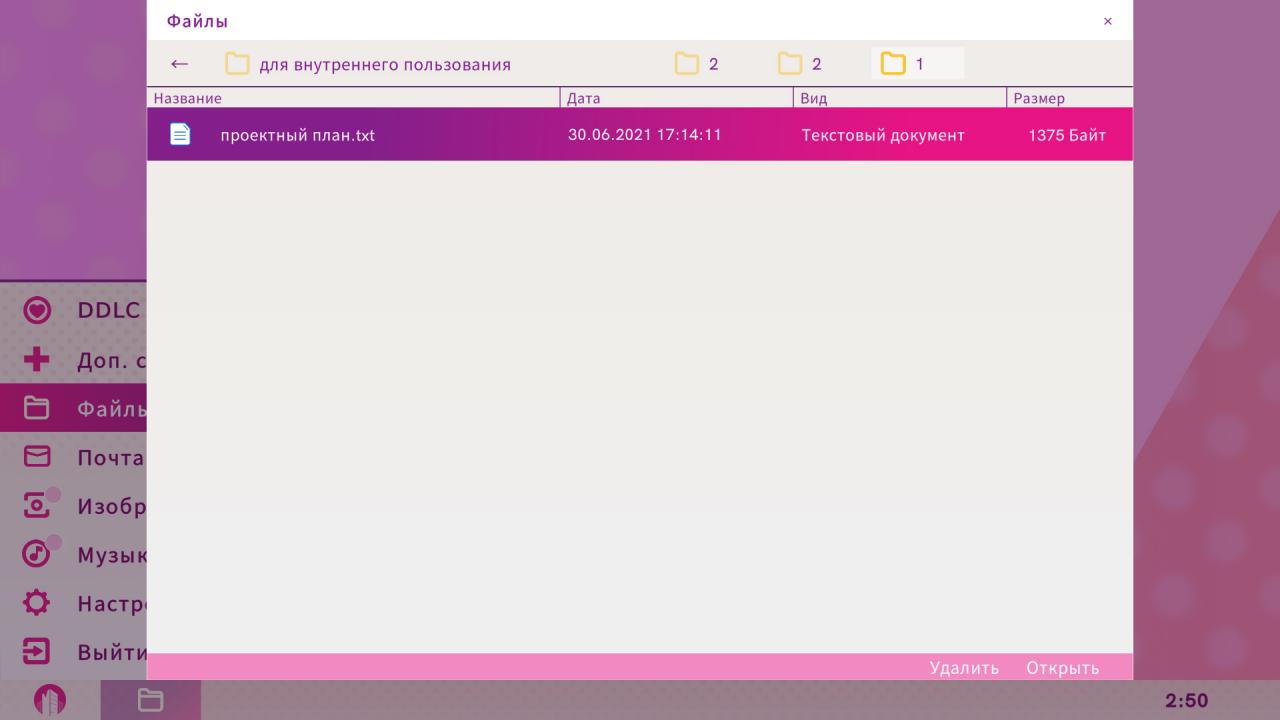 —————————-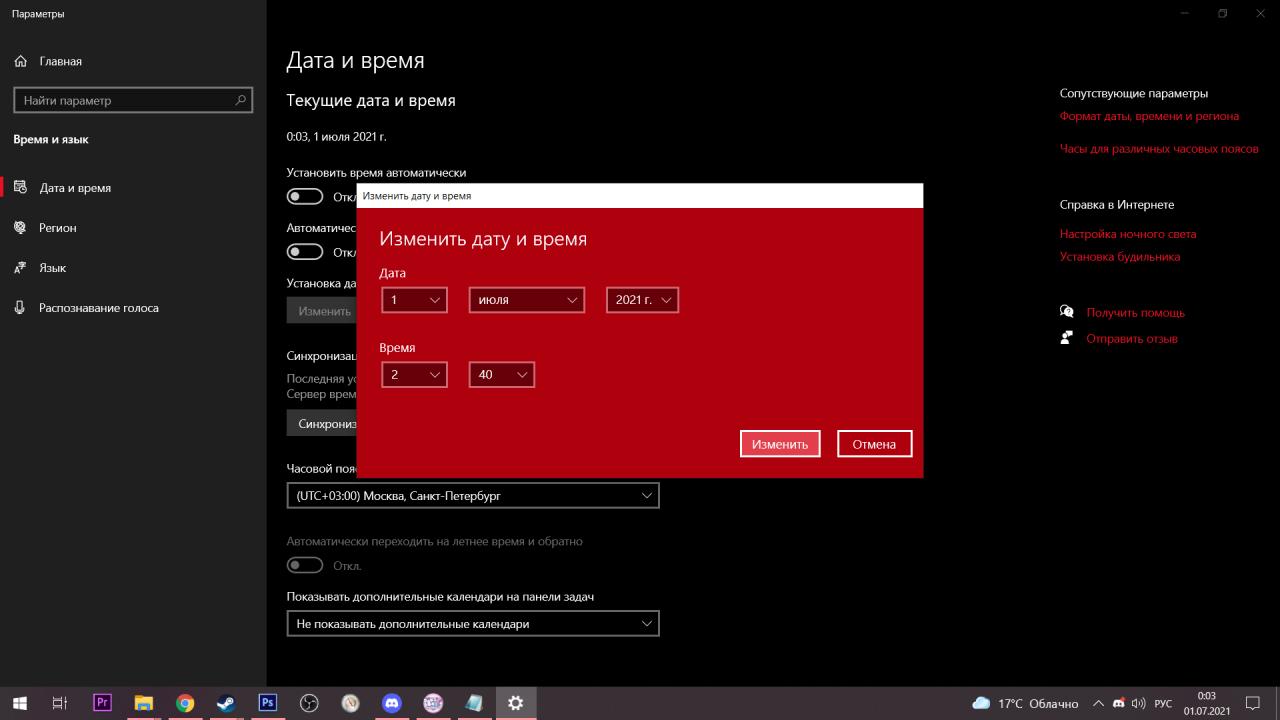 —————————-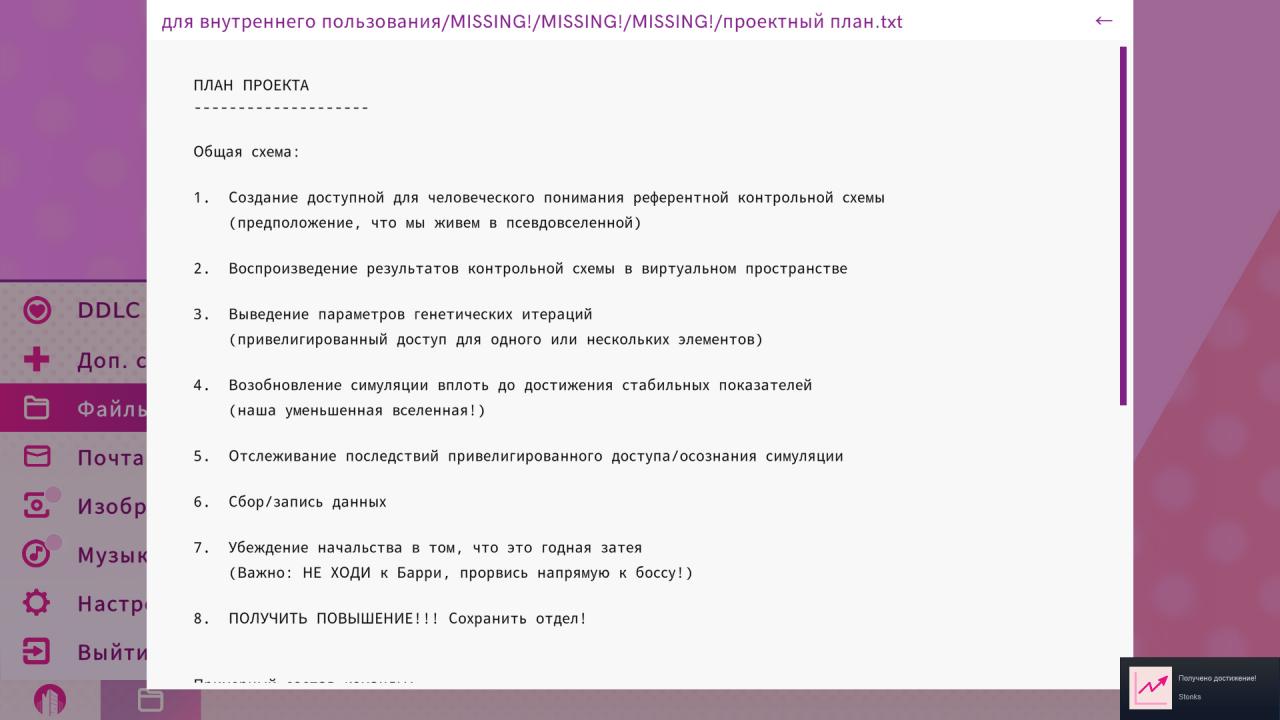 Generally, if you are interested to see not all files, then here is the time and path of everyone (some below, possibly, more will be mentioned):
MESSAGE.txt :
Time 8:33, way: for internal use > 3 > 4 > 4.
Project plan.txt :
Time 2:40, way: for internal use > 2 > 2 > 1.
Meeting notes 2.txt :
Time 9:15, way: for internal use > 1 > 3 > 0.
Track 06 names idei.txt :[/b]
Time 4:30, way: for internal use > 1 > 2 > 3.
Meeting notes 3.txt :
Time 1:58, way: for internal use > 0 > 3 > 0.
DDLC.txt
Time 0:55, way: for internal use > 4 > 0 > 4.
For information about time Thank you JOKERTHEEVIL
Ruin everything (hidden)

Kill all your friends.
I think, you, as I, guess, what is the point.
Thank you (hidden)
With love, Monica
Achievement is given by completing the game for the simple ending.
That is, go through the game on one of the routes, reach 4 act and so on, same as in the previous version of DDLC (only in this delete can no longer be in the steam folders, but on the desktop of the game itself.)
Error (hidden)

Your desktop wallpaper cannot be installed due to the lack of administrator rights on this computer. For more information, contact your system administrator.
Achievement will open, if you change the wallpaper on the in-game desktop to something, except Monica. For the first time, the wallpaper will change to the picture with Monica anyway and you will receive the achievement.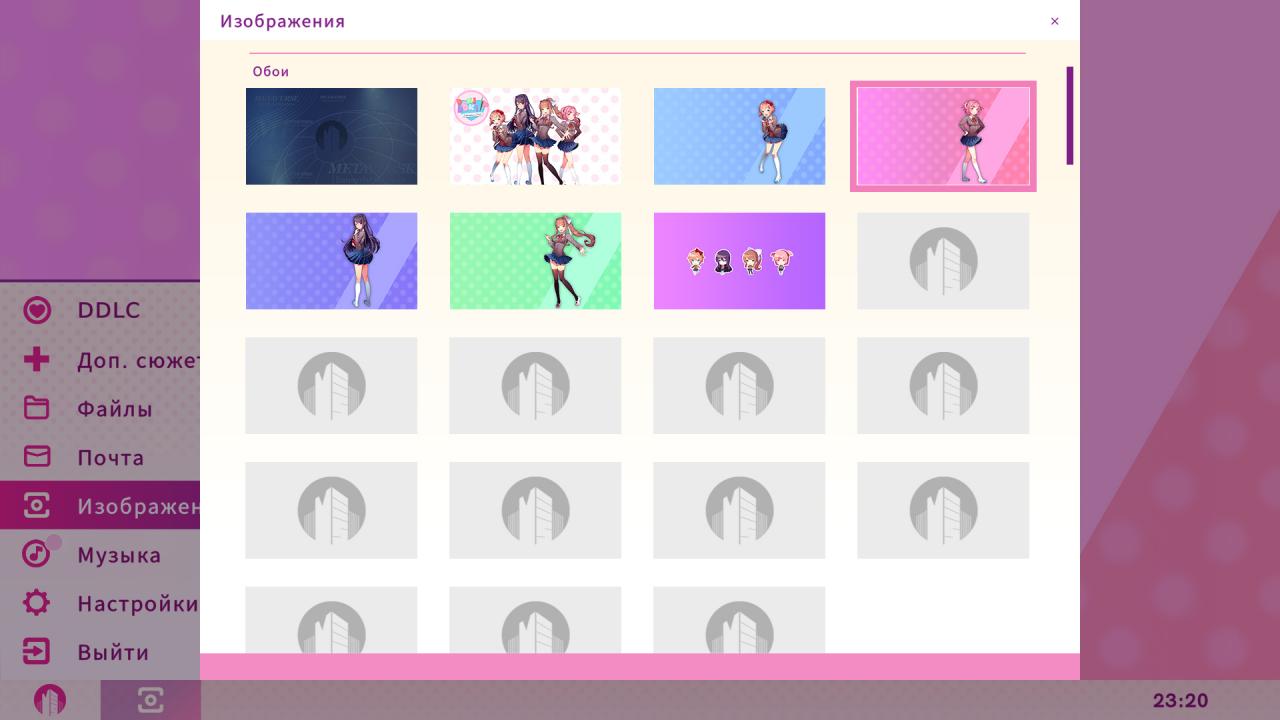 —————————————————-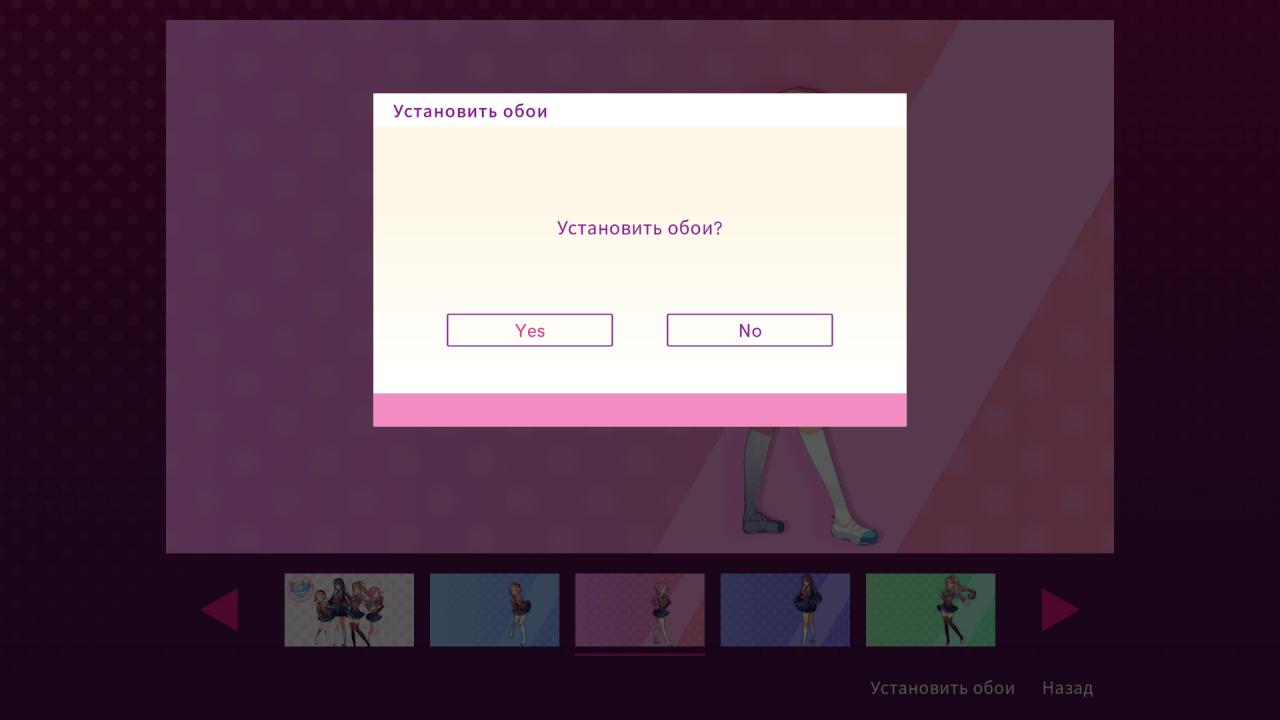 No (hidden)

Please select "DO NOT exit DDLC"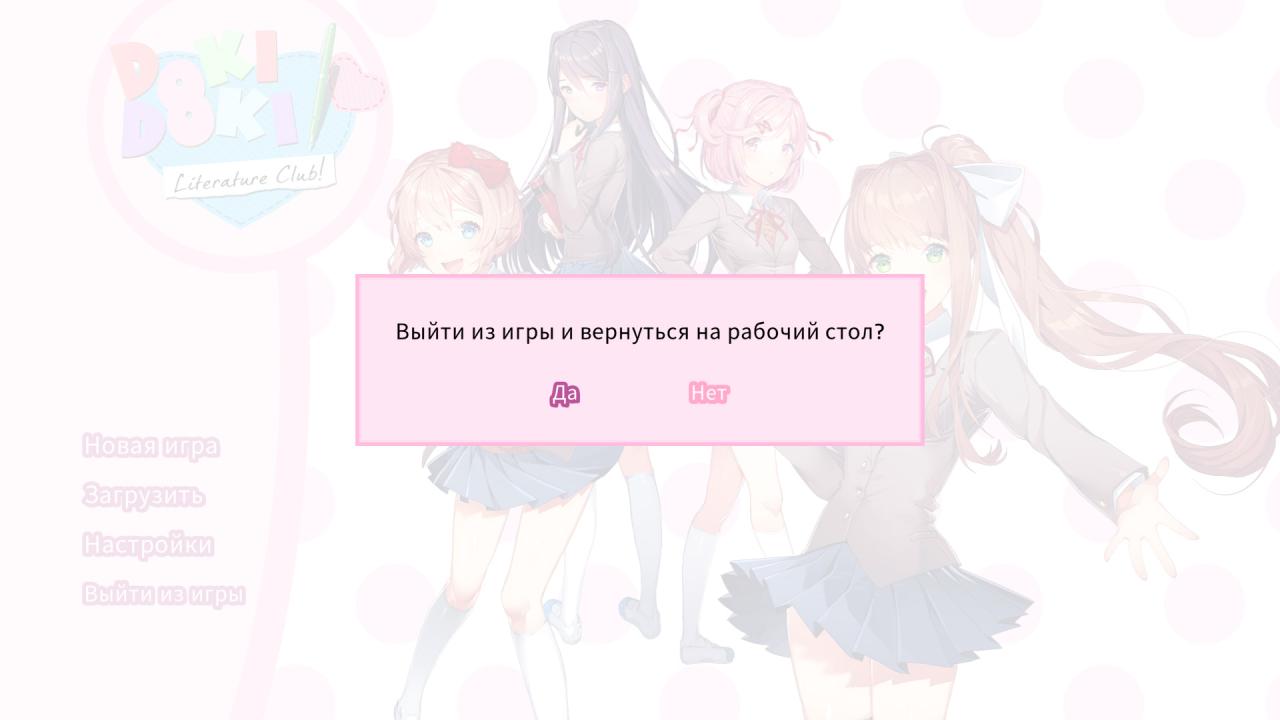 2-Stocked (hidden)

Delete Monica twice, being remote 0 time.
Friendship and Literature
Complete all Side Stories.
Dan says hi (hidden)

Find Dan's Special Note.
At all, it should be DDLC.txt file, which was mentioned in the achievement "Stonks", but, for some reason, no achievement given. I will think.
Breakthrough

Collect 100% data collection.
We go through every root, collecting all the images and stuff.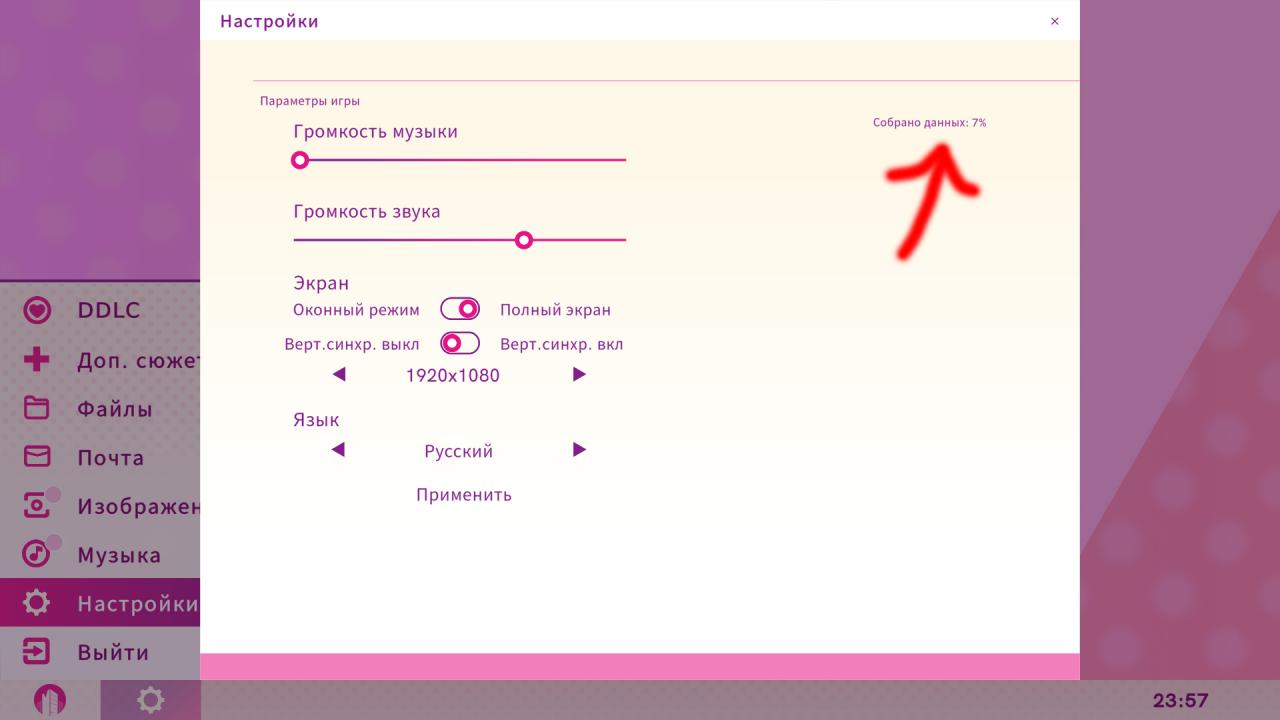 She will never be real (hidden)
Listen to so much, what does Monica want to say.
Related Posts: