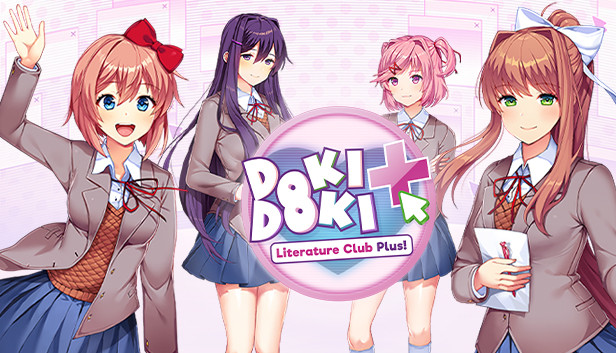 Well, if you haven't played the original game, then you most likely are not familiar with the so-called "true" game ending. She is special because, that in the credits of the game, screenshots from the game are not deleted, and at the end, instead of a letter to Monica, there will be letters from the creator of the game.
First and basic steps
The most important passage in this is that, that we will go through a game for all girls. That is, we must lure all the members of the literary club to ourselves., except Monica. Well, what needs to be done for this?
We must be preserved at the time of writing our first poem, and it is from this preservation that we will make a start.. After we have completed all the steps with the girl, we must return to this conservation and begin to encourage a new. We do this until Sayori is recognized. Let's go one by one: Natsuki, Yuri and Sayori.
Natsuki
To please Natsuki and get all screenshots of her. We must write poetry only for her and at every possible moment we must protect her.
Words for a poem:
Anger (anger), Anime (anime)
Blanket (a blanket), Boop (beep), Bouncy (provocative), Bubbles (bubbles), Bunny (hare)
Candy (candy), Cheeks (cheeks), Chocolate (chocolate), Clouds (clouds), Cute (nice)
Doc Doc (here and there)
Email (e-mail)
Fantasy (fantasy), Fluffy (fluffy)
Games (games), Giggle (giggle)
Hair (hair), Headphones (headphones), Heartbeat (heartbeat), Hop (jump)
Jump (jump), Jumpy (bouncing)
Kawaii (kawaii), Kiss (kiss), Kitty (kitty)
Lipstick (lipstick), Lollipop (lollipop)
Marshmallow (marshmallow), Melody (melody), Milk (milk), Mouse (mouse)
Nibble (gnaw, nibble), Nightgown (nightgown, pajamas)
Papa (dad), Perfect (ideal), Peace (peace), Pink (pink), Playground (playground), Poof (puff), Pout (grimace, pout, grimace), Puppy (puppy), Pure (clean)
Ribbon (tape)
Shiny (brilliant), Shopping (shopping), Skipping (ignore, miss, to gallop ( Yes, and it is ) ), Skirt (skirt), Socks (socks), Spinning (to spin, rotating, swirling), Sticky (sticky), Strawberry (Strawberry), Sugar (sugar), Summer (summer), Swimsuit (swimsuit)
Twirl (whirl)
Valentine (valentine), Vanilla (vanilla)
Waterfall (waterfall), Whisper (whisper), Whistle (whistling)
Amazing (delightful), Awesome (startling)
Beauty (beauty), Bed (bed), Bliss (bliss)
Charm (charm), Cheer (cheer), Childhood (childhood), Clumsy (clumsy), Color (color), Comfort (comfort)
Dance (dance), Dazzle (to dazzle)
Excitement (Delight), Extraordinary (extraordinary)
Family (a family), Feather (pen), Fireflies (fireflies), Fireworks (fireworks), Flower (flower), Flying (flight, to fly), Friends (friends), Fun (fun)
Happiness (happiness), Heart (a heart), Holiday (holiday)
Laugh (laugh), Lazy (lazy), Loud (loud), Love (love), Lucky (lucky)
Marriage (marriage), Memories (memories), Music (music)
Nature (nature)
Ocean (ocean)
Party (a party), Passion (passion), Play (game), Precious (precious),
Rainbow (rainbow), Raincloud (cloud), Romance (romance, relations, novel)
Sadness (sadness), Silly (stupid), Sing (sing), Smile (to smile), Sparkle (sparkle), Special (special), Sunny (solar), Sunset (sunset), Sweet (sweet)
Together (together), Treasure (treasure)
Vacation (holiday)
Warm (warm), Wonderful (great)
We do all this until Sayori is recognized, and load our first poem.
Natsuki is ready.
Yuri
Everything is the same as indicated with Natsuki., but only now we have to please Yuri and do whatever we can to maintain your good relationship.
Words for a poem:
Afterimage (afterimage), Agonizing (agonizing), Ambient (external environment, surrounding, flowing), Analysis (analysis), Anxiety (anxiety), Atone (redeem), Atmosphere (Atmosphere), Aura (aura)
Breathe (breath)
Cage (cell), Captive (prisoner), Climax (climax), Contamination (pollution), Covet (to crave, covet, to envy), Crimson (scarlet)
Desire (a wish), Despise (to despise), Destiny (fate), Determination (determination), Disaster (catastrophe), Disarray (a mess), Disoriented (disoriented, abstract), Disown (to renounce), Dream (sleep, dream)
Effulgent (radiant), Electricity (electricity), Entropy (transformation), Essence (essence), Eternity (eternity), Existence (Existence), Explode (explode), Extreme (extreme)
More solid (abscess), Fickle (volatile), Flee (run away, to avoid), Frightening (frightening)
Graveyard (cemetery)
Heavensent (from heaven), Horror (horror)
Imagination (imagination), Incapable (unable), Incongruent (inappropriate), Infallible (unmistakable), Inferno (from), Infinite (endless), Intellectual (intellectual), Insight (understanding)
Journey (journey), Judgement (judgment)
Landscape (scenery), Lust (lust, lust)
Massacre (slaughterhouse), Meager (pathetic), Melancholy (melancholy)
Philosophy (philosophy), Pleasure (pleasure), Portrait (portrait)
Question (question)
Raindrops (raindrops)
Secretive (secret), Sensation (sensation), Starscape (star landscape), Suicide (suicide)
Tenacious (persistent), Time (time)
Uncanny (creepy, unpleasant), Uncontrollable (out of control), Unending (endless), Universe (universe), Unrestrained (irrepressible), Unstable (unstable)
Variance (deviation), Vertigo (dizziness), Vibrant (alive), Vitality (viable), Vivacious (cheerful), Vivid (bright)
Whirlwind (vortex, tornado), Wrath (anger)
Alone (alone)
Broken (broken)
Calm (calm), Cry (cry)
Dark (dark), Daydream (dream), Death (death), Defeat (defeat), Depression (depression)
Embrace (hug, embrace), Empty (empty)
Fear (fear), Forgive (forgive)
Grief (upstairs)
Hope (hope), Hopeless (hopeless), Hurt (pain, painfully)
Joy (joy)
Misery (a pity), Misfortune (failure)
Pain (pain), Peaceful (peaceful), Prayer (prayer)
Rose (rose flower)
Scars (scars), Shame (shame)
Tears (tears), Tragedy (tragedy)
Unrequited (meek)
Yuri is ready.
Planet
I think additional words are superfluous.
IMPORTANT. AT THE MOMENT OF SAYORI'S RECOGNITION, YOU SHOULD RESPOND TO FEELINGS MUTUAL. THEN YOU WILL RECEIVE THE LAST PICTURE
Words for poems:
Adventure (adventure), Alone (loneliness), Amazing (astonishing), Awesome (awesome)
Beauty (beauty), Bed (bed), Bliss (bliss, whim), Broken (broken)
Calm (calm), Charm (Charm), Cheer (cheer), Childhood (childhood), Clumsy (clumsy), Color (color), Comfort (comfort), Cry (cry)
Dance (dance), Dark (dark), Daydream (dream), Dazzle (to dazzle), Death (death), Defeat (defeat), Depression (depression)
Embrace (embrace, hug), Empty (empty), Excitement (Delight), Extraordinary (unusual)
Family (a family), Fear (fear), Feather (pen), Fireflies (fireflies), Fireworks (fireworks), Flower (flower), Flying (flight), Forgive (forgive), Friends (friends), Fun (fun)
Grief (upstairs)
Happiness (happiness), Heart (a heart), Holiday (holiday), Hope (hope), Hopeless (hopeless), Hurt (pain)
Joy (joy)
Laugh (laugh), Lazy (lazy,laziness), Loud (loud), Love (love), Lucky (lucky)
Marriage (marriage), Memories (memories), Misery (sadness), Misfortune (failure), Music (music)
Nature (nature)
Ocean (ocean)
Pain (pain), Party (a party), Peaceful (calm), Prayer (prayer), Passion (passion), Play (play), Precious (precious), Promise (Promise)
Rainbow (rainbow), Raincloud (cloud), Romance (flirting, flirting, relations), Rose (rose flower)
Sadness (sadness), Scars (scars), Shame (shame), Silly (stupid), Sing (sing), Smile (to smile), Sparkle (sparkle), Special (special), Sunny (solar), Sunset (sunset), Sweet (sweet)
Tears (tears), Together (together), Tragedy (tragedy), Treasure (treasure)
Unrequited (meek)
Vacation (holiday)
From now on, you can continue the game and move on to the last action on the way to getting a good ending..
Warm (warm), Wonderful (astonishing)
Color (color)
Related Posts: